Consider these options to maximize production with safety:
Coil Car
Upenders
Threading Table
Hold Down Arm
Material Guidance
Shear
Stacking Pallets
Part Conveyors
Multi-Function Pendant
Feeder Exit Table
Side Shift Base
Laser Loop Control
Coil Car with Narrow Coil Keeper Arms
Typical power lift of 20″, 110" travel 1,000 to 60,000 lbs.
Dual scissor stabilizer to support top of car when loaded off center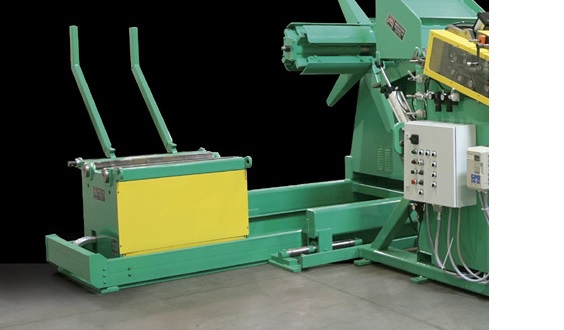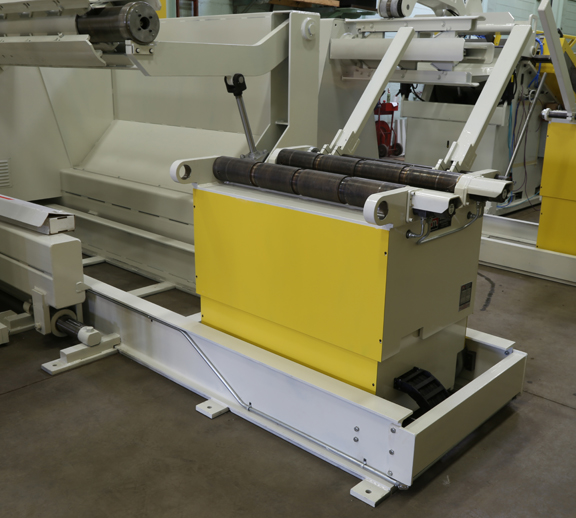 Material Guidance systems
Screw adjust side side guides help hold the material square and centered as it enters the straightener.
Screw adjust side guides are selfcentering, roll position is set by hand wheel.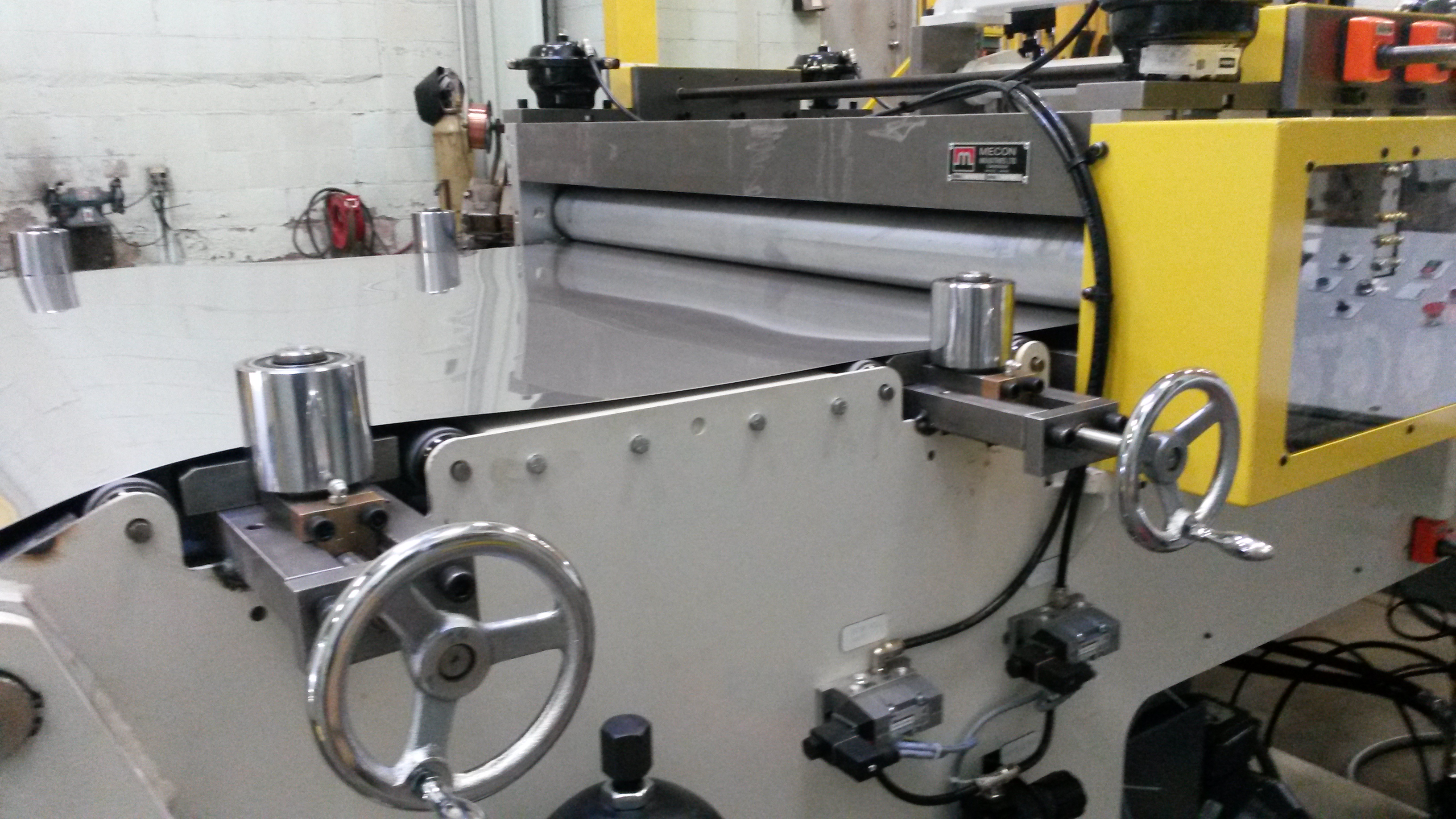 Multifunction pendant
Multifunction pendant (replaces standard 2 button jog pendant)
Mode select: Setup- Manual- Automatic, Reset, Feeder Auto start, Feeder Auto stop, Jog Reverse, Jog Forward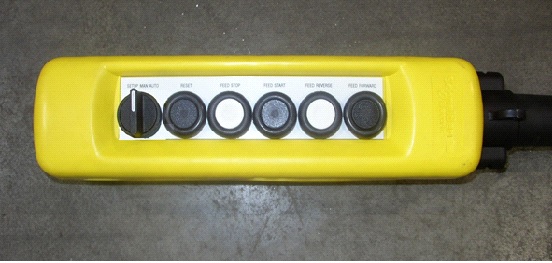 Coil System Threading Table
Eliminate the need for the operator to carry the start of the material from the coil to the straightener
Safe material handling operation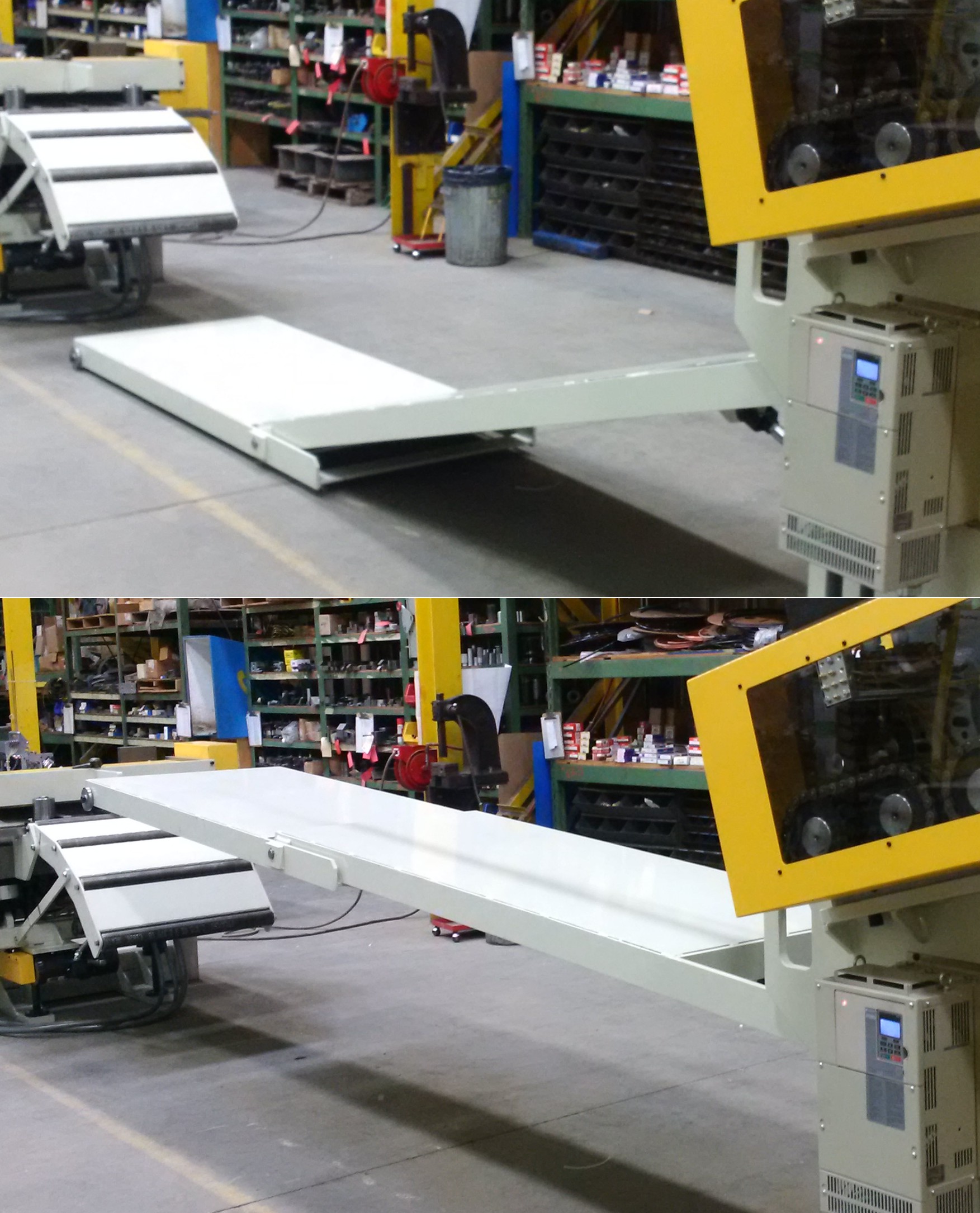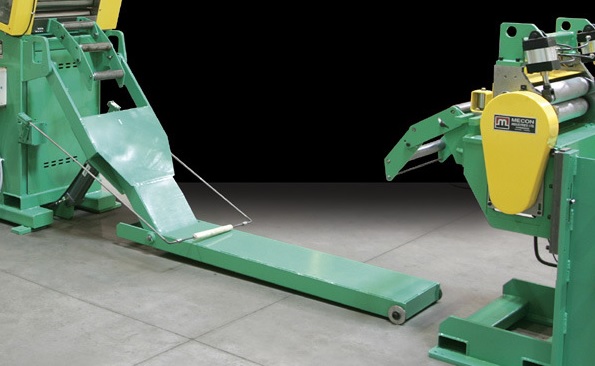 Mecon Laser Loop Control System:
Controls the uncoiling process to supply material into an accumulation loop at a rate sufficient to meet or exceed the demands of the machine pulling material from the loop.
Provides a simple method of setting the operating limits, the operating parameters, and the mode of the loop control.
Allows the uncoiling process to run without abrupt changes in speed.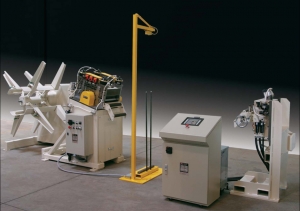 Coil Upender
Easy and safe way to upend not only metal coils, but also molds, dies and other heavy and bulky loads.
Available 1,000-60,000lbs standard, custom to you requirement.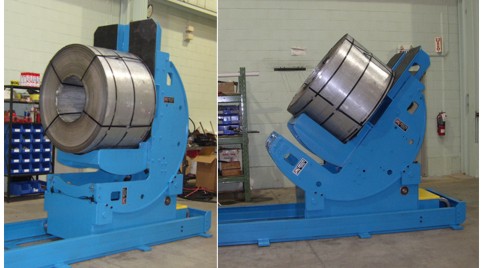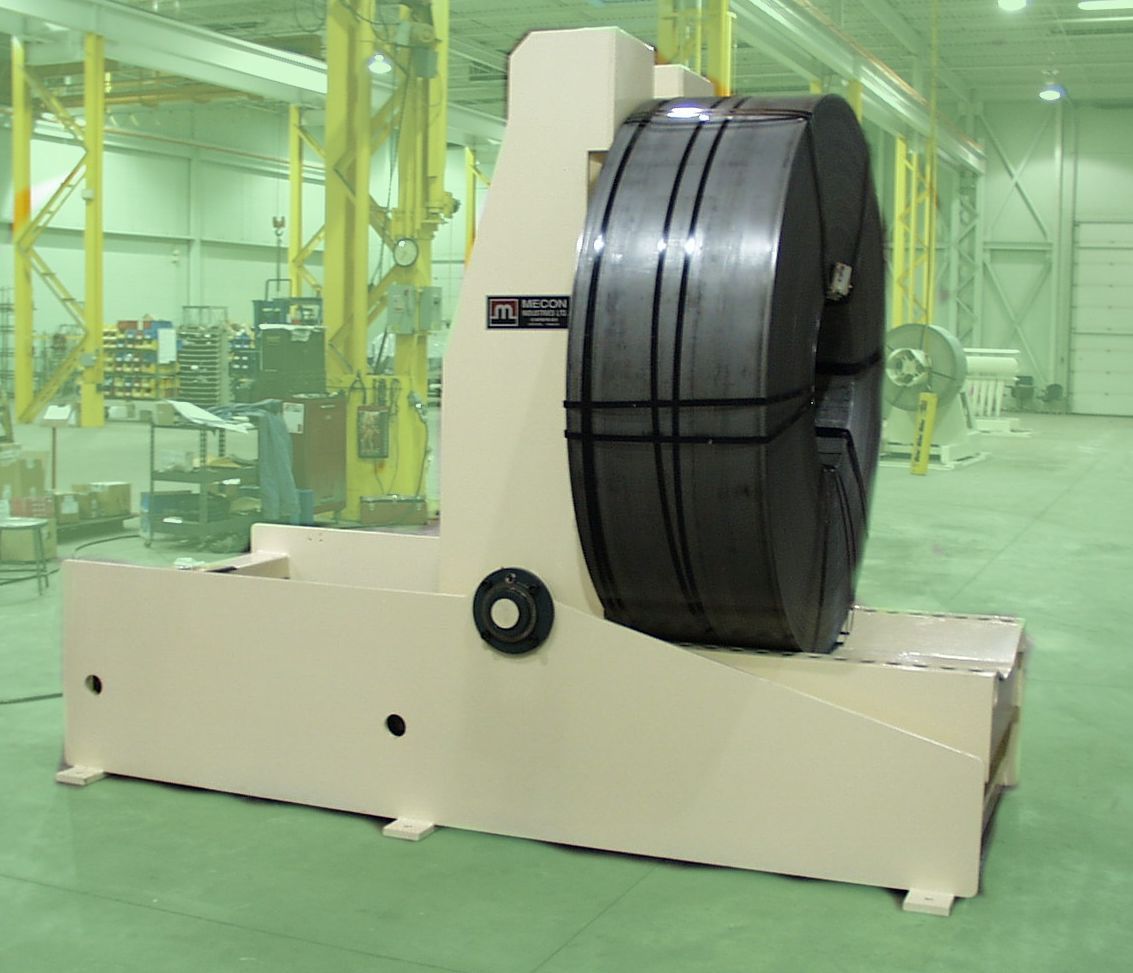 Shear
Modular construction to allow easy integration
CRU-WEAR High chrome, high carbon tool steel shear blades with 4 cutting edges 1/2 x 3″.
CYCLE TIME less than 1.5 sec.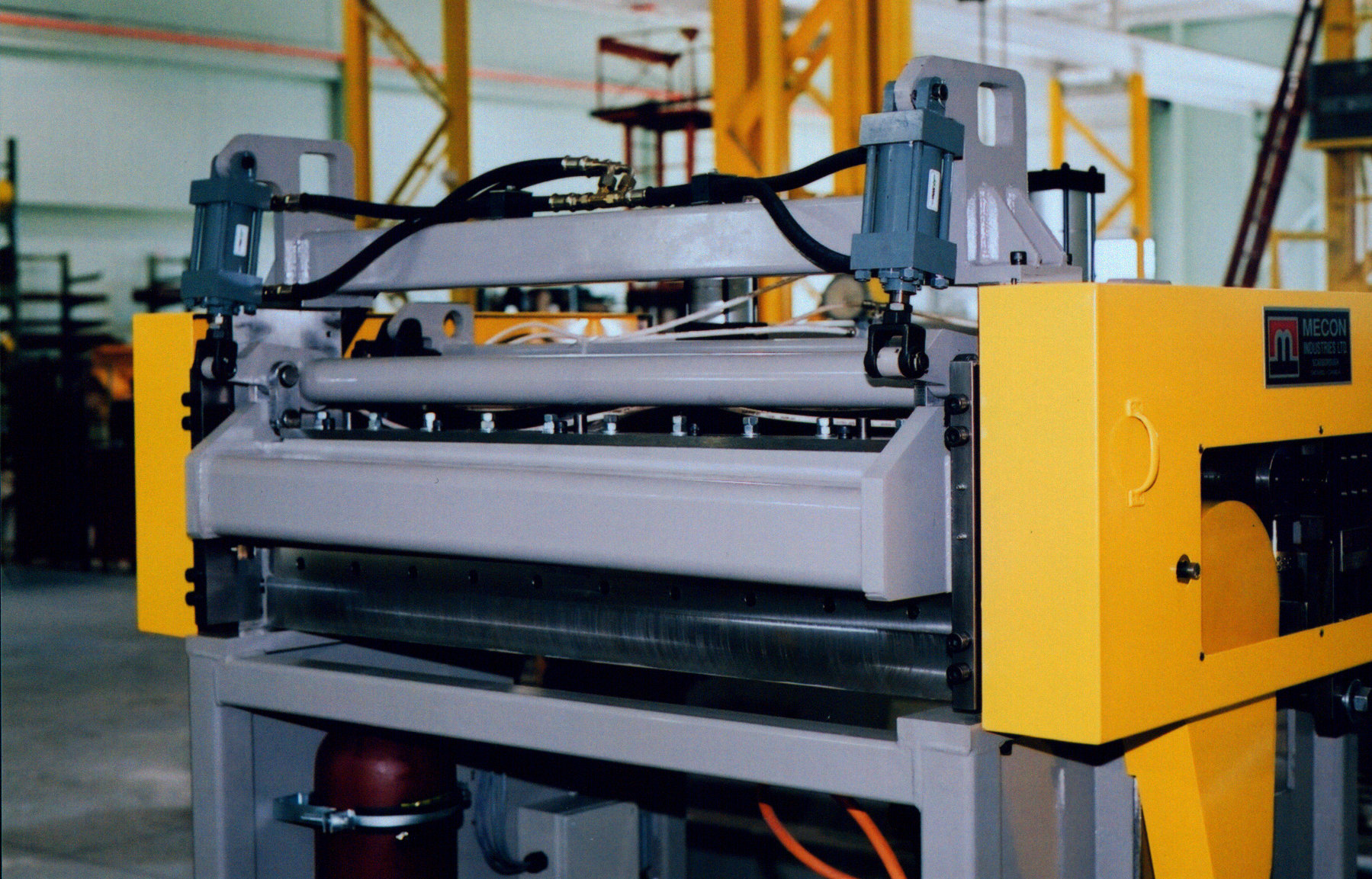 Perimeter Safety Fencing
2.5″ sq. posts lagged to the floor.
Spaces between are posts fitted with panels 1.5 x 1.5 angle frame and 10 ga. x 1 x 1 welded wire.
Fixed panels are bolted in place.  Any fixed panel may be removed by unbolting.
Sliding or hinged doors may be placed anywhere in the perimeter/
Telescoping doors and light curtains available
Fully programmable multiple Safety Zones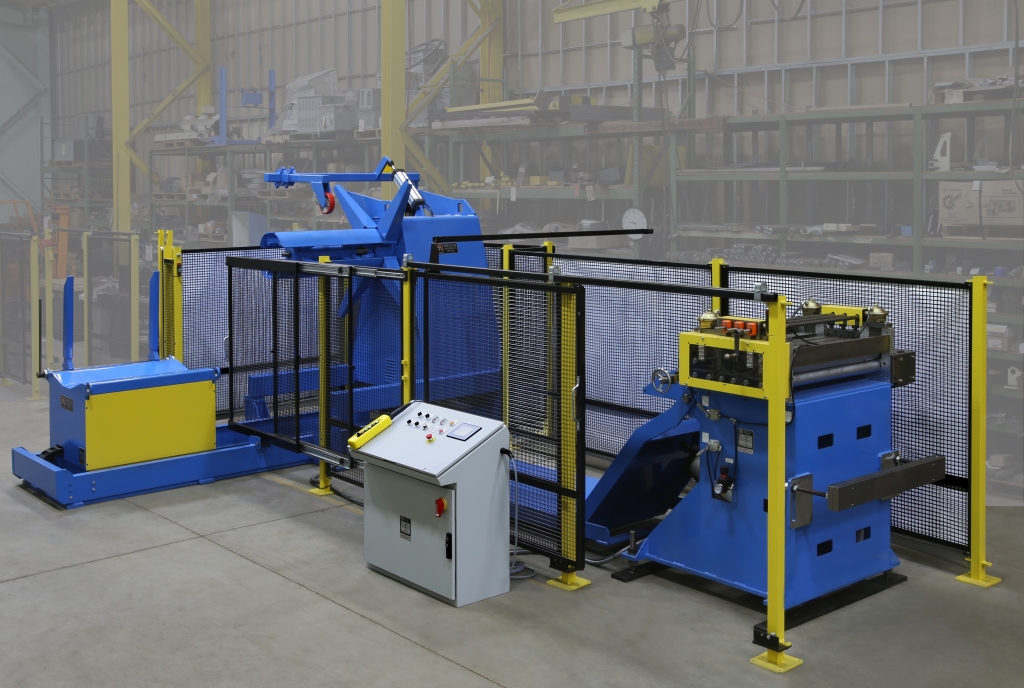 Stacking Pallets
Adjustable posts to align blanks for stacking.
Sub frame with cross tubes for lift truck forks and corner posts for stacking.
Guide posts mounted on Tee Slotted bars for positioning
Guide posts mounted on sliding and pivoting bases.
Custom designed for your requirement.
Feeder Exit Table
This version has a solid top, spring suspension, and is extendable
Options: mount for strip lubricator, roller top, nylon top, …
Design to suit site requirements.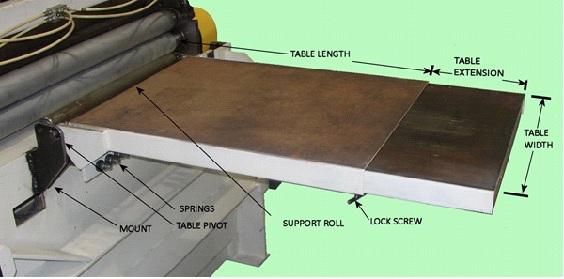 Upgrade your machines to bring them to the latest standards in the industry.
MECON HOME         MECON COIL HANDLING      MECON COIL HANDLING EQUIPMENT