Requirement:
Coil processing system for Stainless steel Grades 430, 434, 436 class A with poly film.
10,000 lb x 48" wide capability
Material thicknesses:.015"-.060"
Material: stainless steel (Grades 430, 434, 436 class A with poly film) material
Coil width up to 36"
Progression range 1″ to 48″
Press strokes to range from 5 to 60 SPM
Loop control sensor
Threading table
Operator interface for product selection and key in feed length, speed % and acceleration
Quick/easy coil changeover
Coil Cart: loading coil onto un-coiler
Hydraulic raise and lower
Installed on tracks and electrically driven toward and away from uncoiler
Proposed Solution:  10,000 lb. Capacity x 36" Coil feeding system.
1a)          Coil car model 100cc 
10,000 lbs capacity x 20" lift x 72" travel
Hydraulic lift of 20″ with scissor stabilizer, hydraulic motorized travel.
The car travels on tracks to transfer the coil from the park position to the uncoiler, or from the uncoiler back for storage.
Traverse, and lift functions are controlled manually from a central control station.
Car top is fitted with pivoting style coil keepers to stabilize narrow coils.
1b)         Uncoiler model 100m36.
10,000 lbs capacity x 36" wide x 72" maximum outside diameter
4 segment mandrel with hydraulic expansion 18" to 22" diameter
Inner and outer coil keepers to set coil position and prevent coil telescoping.
Motorized Jog Forward, Jog Reverse, Automatic unwind.
Motorized Automatic unwind, speed 0 to 15rpm, controlled by laser loop height sensor.
Overarm with idle wheel to help hold coil tight during unbanding, rebanding, and threading.
1c)          End Pivot threading table
The threading table is used to eliminate the need for the operator to carry the start of the material from the coil to the straightener.
Use the hydraulic cylinder to lift and hold the table in position to bridge the space between the coil and the straightener.
Lower the table to floor to allow the material to sag into an accumulation loop.
Top surface covered with nylon to limit marking of material.
1d)         Material guidance.
Entry ramp rolls support the material as it flows from the accumulation loop to the straightener.
Screw adjust side guides are selfcentering, roll position is set by hand wheel.
1e)         Straightener model 3str36-f
The 3str series straighteners have 11 hardened and ground rolls running on precision needle bearings,
Bearings lubricated from centralized manifolds (hand lubricated)
Entrance and exit pinch rolls; air actuated, lower rolls driven,
2 entrance pinch rolls, 3.000″ diameter, close onto material to drive starting edge thru straightener, not required to change straightener settings for threading,
2 exit pinch rolls, 3.000″ diameter, open for threading, close for running,
Pinch rolls are shot peened and chromed for higher grip at lower pressures.
7 straightening rolls, 3.000″ diameter,  4 lower rolls all driven, 3 upper rolls idle,
Upper rolls adjusted individually, position shown on .001″ graduation counters.
Servosystem drives the straightener and pinch rolls to accurately position the material.
Passline adjustment of 5" by leveling screws.
Slotted plates to connect feeder to press.
1f)          Safety Circuits
Mecon standard uses to 2 dual path circuits to meet PSR requirements.
Door Monitor Circuit – detects the condition of door switches in a perimeter fence.  If the door is open, then the circuit will inhibit Automatic operation of the equipment.  Manual operation will be permitted.
On closing of the doors, the operator must press a reset button to allow Automatic start.
Emergency Stop – detects the condition of the Estop buttons and external Estop circuits.  If any
Estop button is pressed or and external Estop circuit is opened, then the system will stop all motors.  No motion will be possible until the circuit is closed and reset.
2)        Perimeter Safety Fencing
The barrier system will enclose the Uncoiler, loop, and straightener feeder.  Sliding panels mounted at the feeder and between the coil car and the uncoiler are installed to allow the operator access and coil loading when in manual mode.
Safety rated switches are mounted to detect if a door is open, and to signal the door condition to the safety control.
Construction: 2.5″ sq. posts lagged to the floor.
Spaces between are posts fitted with panels 1.5 x 1.5 angle frame and 10 ga. x 1 x 1 welded wire.
Fixed panels are bolted in place.  Any fixed panel may be removed by unbolting.
A sliding or hinged door will be placed beside the feeder.
A telescoping door (or optional light curtain) will be placed between the uncoiler and the coil elevator.
Safety Switches: The door monitor switches will be supplied to suit the required safety control circuit as approved during the PreStart Review.
The standard switches are Safety rated, have two normally open contacts and are actuated by a key mounted on the door which inserts into the switch when the door is closed.
Perimeter fence: Consisting of:
9 pc        standard posts,
7 pc        wire mesh panels,
1 pc        sliding (or hinged) door 48" open
1 pc        telescoping door 84" open
2 pc        door monitor switches
Requirement: Uncoil 2 steel coils at the same time
Material: Steel 30,000 psi
Thickness: 20Ga
Width: 2″-15″
Coil weights: 1500 lbs
Process speed: 200 fpm
Press speed: 120spm
Proposed Solution:
Dual UNCOILER   model T15M16
CAPACITY                                            1,500 lbs. per spindle
MAXIMUM WIDTH                          16″
COIL ID. RANGE                                12″ to 21″
COIL MAXIMUM OD                       60" typical
dual spindle uncoiler,
3/4 hp DC spindle drive on each spindle
Drives are controlled manually for jogging the coil, and automatically by the loop controlers during run.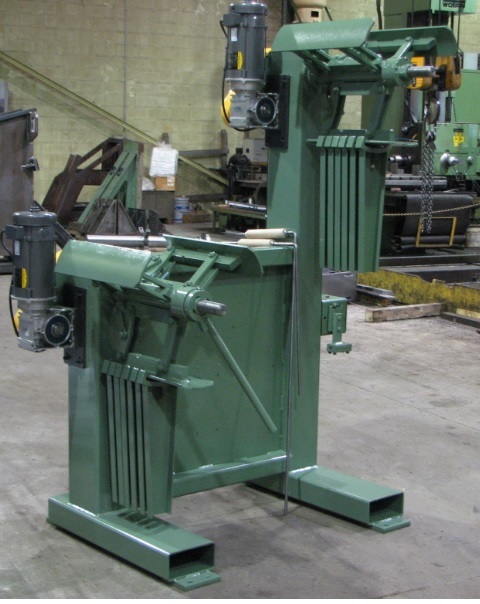 MECON model T15M16 Tandem spindle uncoiler with 2 complete 15M uncoiler spindles
Requirement:
Material: Steel 70,000 psi
Thickness: 3/8"
Width: 8"
Coil weight: 10,000 lbs
Process speed: 34 fpm
Feed length: 8"
Press speed: 50spm
Pass line height: 46″
System voltage: 575v, 3-phase, 60 Hz;
Proposed Solution:
COILCRADLE – STRAIGHTENER: 200CCS18
6str18 straightener upgrade
motorized straightener adjustment screw
adjust side guide rolls side plate rolls
drive upgrade to 20 hp
laser loop control
extra heavy duty threading
end pivot threading table
FEEDER: 600F18 with Antibackup brake
Floor base- power pass line adjust
Screw adjust sideguide with offset adjust