Founded in 1964, Mecon Industries Ltd is a leading designer and manufacturer of Coil Handling Equipment, Tooling for Press Brakes, and Custom equipment.
With a wide range of experience in many fields, we are able to create cost effective designs and long lasting equipment. Mecon offers a variety of services (and materials) for your projects and manufacturing challenges: Engineering, Custom Build, General Machining, Custom Fabrication, Brake Press Tooling, Coil Handling Systems (Processing), and Rebuild of Machinery.
We are recognized in the industry as a leading supplier of Coil Handling Equipment for the metal stamping industry, supplying individual Coil Handling Machines to installing complete Press Feed Lines.  We  also have a complete line  of standard and custom Press Brake Tooling for bending sheet metal and plate.
Coil Handling Equipment Manufacturer you can trust.
Mecon Industries is a reliable coil processing and coil handling equipment manufacturer that always delivers high quality durable machines. Established in 1964, we are one of the most experienced producers of custom coil handling equipment in Canada. Each system is tailored to your specific production and material requirements, one shoe does not fit all. …read more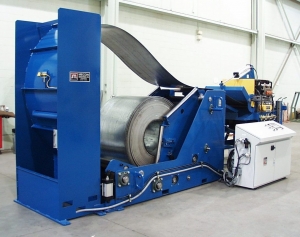 Uncoilers
Servo Feeders
Powered Straighteners
Pull thru Straighteners
Combined Straightener-Feeder Systems
Pipe Straightening Systems
Reel Uncoilers
Cradle Uncoilers
HSLA Steel Straighteners
HSLA Heavy Duty Threading
Pilot Release Straighteners
Pipe Uncoilers
Press Feed Systems
Press Feed Lines
Threading Tables
Cut to Length Systems
CTL Lines
Coil Cars
Side Shift uncoiler
Feeder Exit Tables
Crop Shears
Space Saver Decoilers
Coil Upenders
A reliable press brake tooling manufacturer and supplier.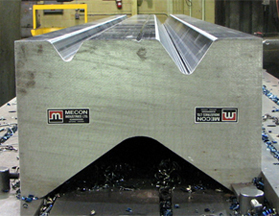 Mecon Industries has been a reliable press brake tooling designer and manufacturer of tools for many years. We specialize in both standard and custom press brake tooling which translates into a great assortment of tools and accessories, from various shapes of punches and dies, to complex multi- hit, multi bend tooling, to simple work supports. Our wide range of press brake tools is well presented in the press brake tooling section. …read more

Custom Design, Machine Shop and Fabrication
With over 50 years as a machine shop behind us, Mecon Industries Ltd has been producing precision machined parts and fabrications of the highest quality for automotive, industrial, marine, mining, medical and other commercial industries for a long time. Production or prototypes from large to small, short run or long run, we can do them all. …read more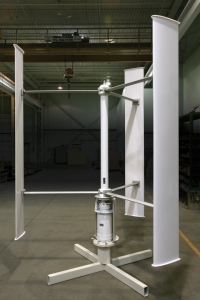 Uncoiler systems, uncoiler cradle systems, uncoiler traditional mandrel systems, Heavy duty servo cradles, uncoiler feeder straightener, complete press feed lines, uncoiler system with shear for cut to length systems, Uncoilers with punch systems.  HSLA straighteners.  Have a coil handling requirement, Mecon Industrieshas a solution for you.