NEW Rules New Tools: Powered Straighteners
The new HSLA materials being used in the industry are posing new challenges for coil handling. Straighteners must be sized on the basis of the type of material to be processed, the thickness range, the stock width, and Yield Strength. Straighteners are generally positioned close to a non-motorized reel to pull material directly off the coil. The primary function of straighteners is to remove coil set and cross bow, and to pay out material to the accumulation loop as required for the feeder. For most materials and flatness requirements, use straighteners with five to seven rolls. For some materials, and to meet high flatness requirements, more rolls may be necessary.
Mecon straighteners are:
Easy to thread, with variable speed drives.
Able to match process demand automatically.
Heavy duty construction.
Easy to set, with soft starts and stops.
All lubrication points marked and easily accessible.
Capacities in mild steel from 0.010" to 0.450", 12"-72" wide (heavier on request)
Standard payout speed of 0-80 fpm.
Digital indicators show straightener roll position.
Entry side guide rolls.
Entry and exit support rollers.

Optimized for HSLA materials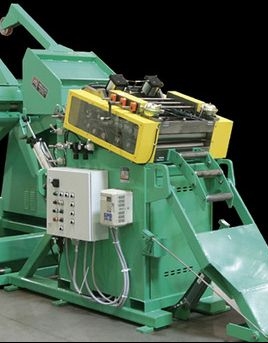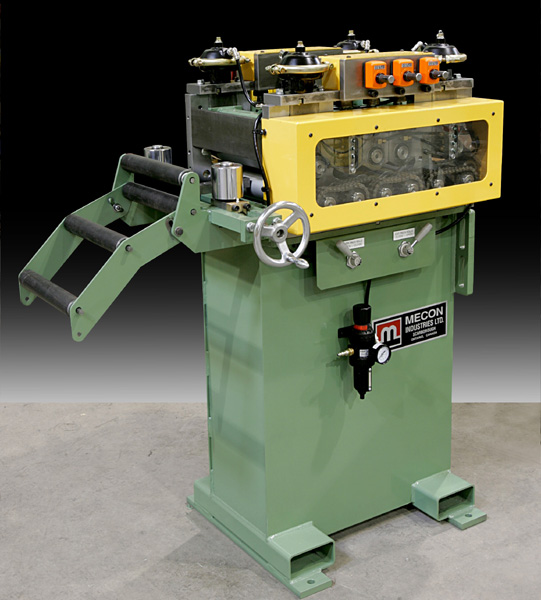 Straightener Capacity
Note: Several factors affect straightener processing capabilities therefore machine capacity calculations are to be used as guidelines only. Consult Mecon engineering with specific application requirements.
[
MECON HOME         MECON COIL HANDLING      MECON COIL HANDLING EQUIPMENT