.
Uncoiler: Reels-Single and Dual spindle:
The coil reels used in most uncoiling  and recoiling applications, primarily because they inherently avoid stock deformation problems. The stock is supported on the center core of the coil and is unreeled as required. May be fitted with a variety of drive and braking systems, combined with coil cars, pinch rolls, power straighteners, overarms, rolling mills or configured as stand alone systems. Reels are the best choice for thin, prefinished and other mark sensitive materials.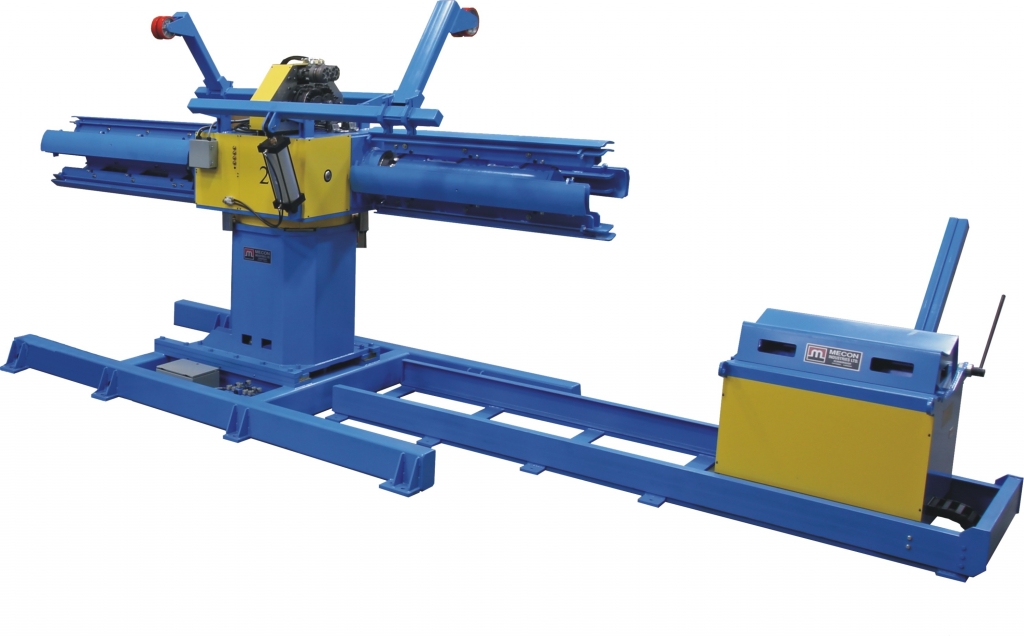 Advantages:
Coil reel is suited to uncoiling a wide ranges of material
Coil reel is easily able to maintain programmed tension downstream. Can be drag braked or powered unit
Coil reel can be adapted to uncoil or recoil. Can easily rewind unused material
Coil reel is less costly than cradles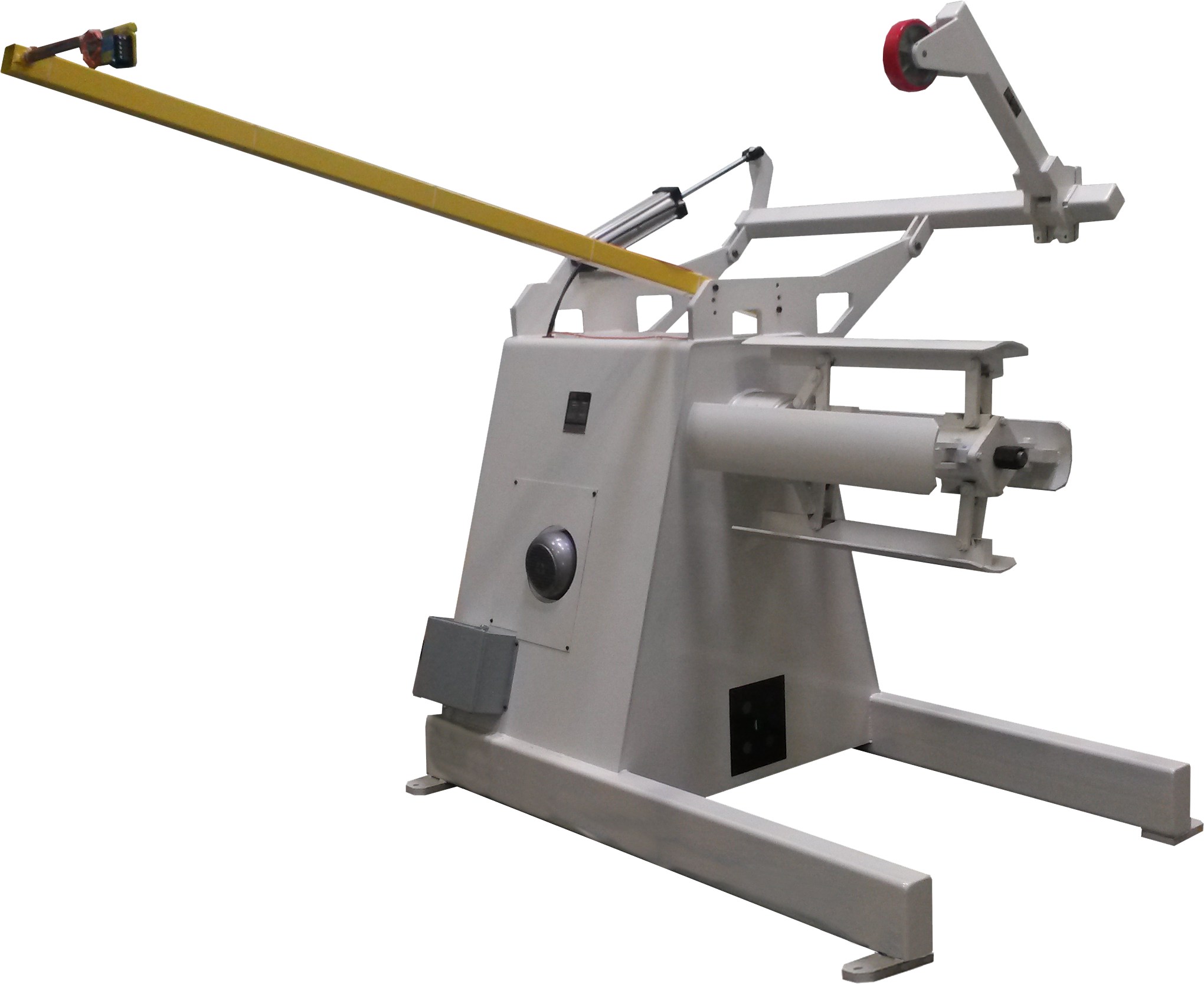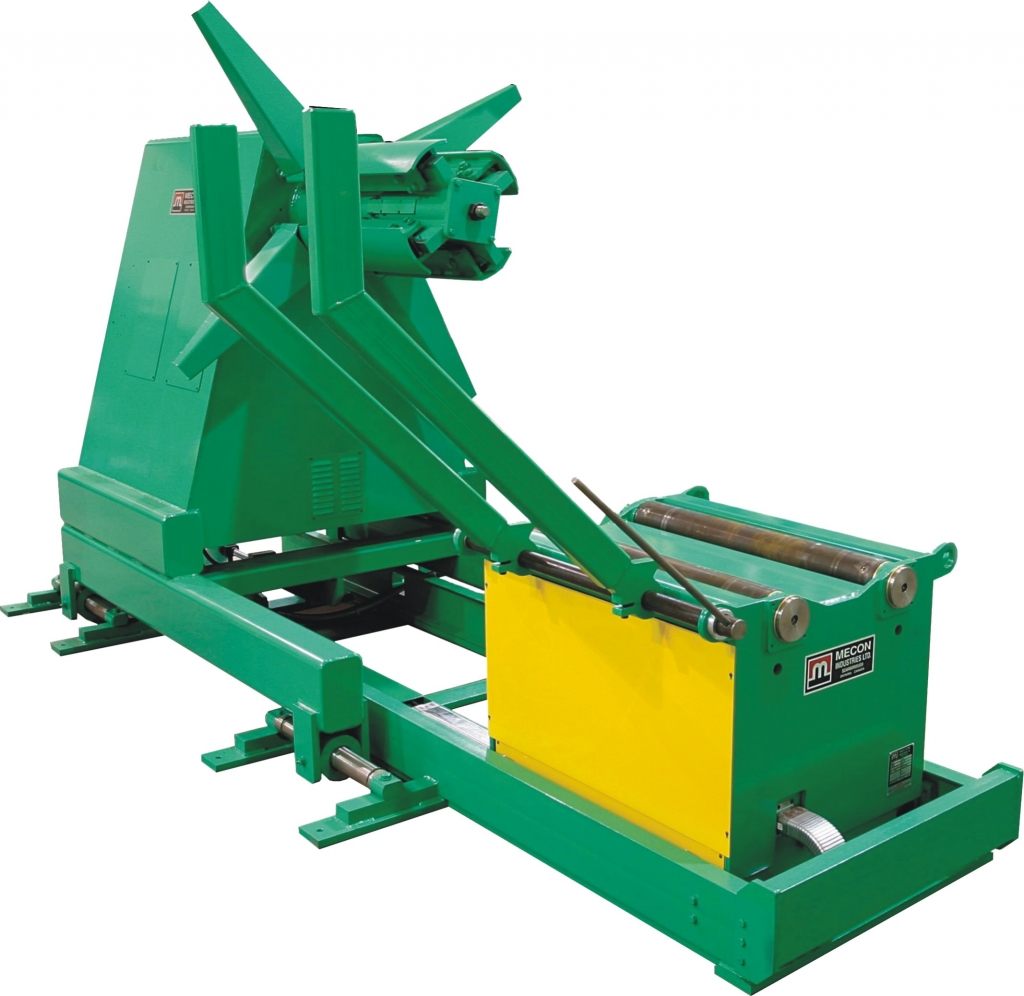 Coil Cradles
Easy, fast loading of coils is the single most important benefit offered by cradle-type uncoilers. They are often used in combination with straighteners for faster loading and adjustment, low power requirements and maintenance. Cradle-straighteners also save plant floor space.
Features:
Rugged heavy duty steel construction
Self centering coil keeper plates
Lifting points for crane
Forklift truck lifting tubes
Driven cradle and straightening rolls
All rolls hardened to 55RC
All lubrication points marked and easily accessible
Capacities from 0.060" to 0.375" mild steel, 12" to 72" (larger sizes call for quote)
Standard payout speed of 0 to 80 fpm.
Digital indicators show straightener roll position
Standard straightener head with entry and exit pinch rolls and 7 straightening rolls. (available for new high strength steels)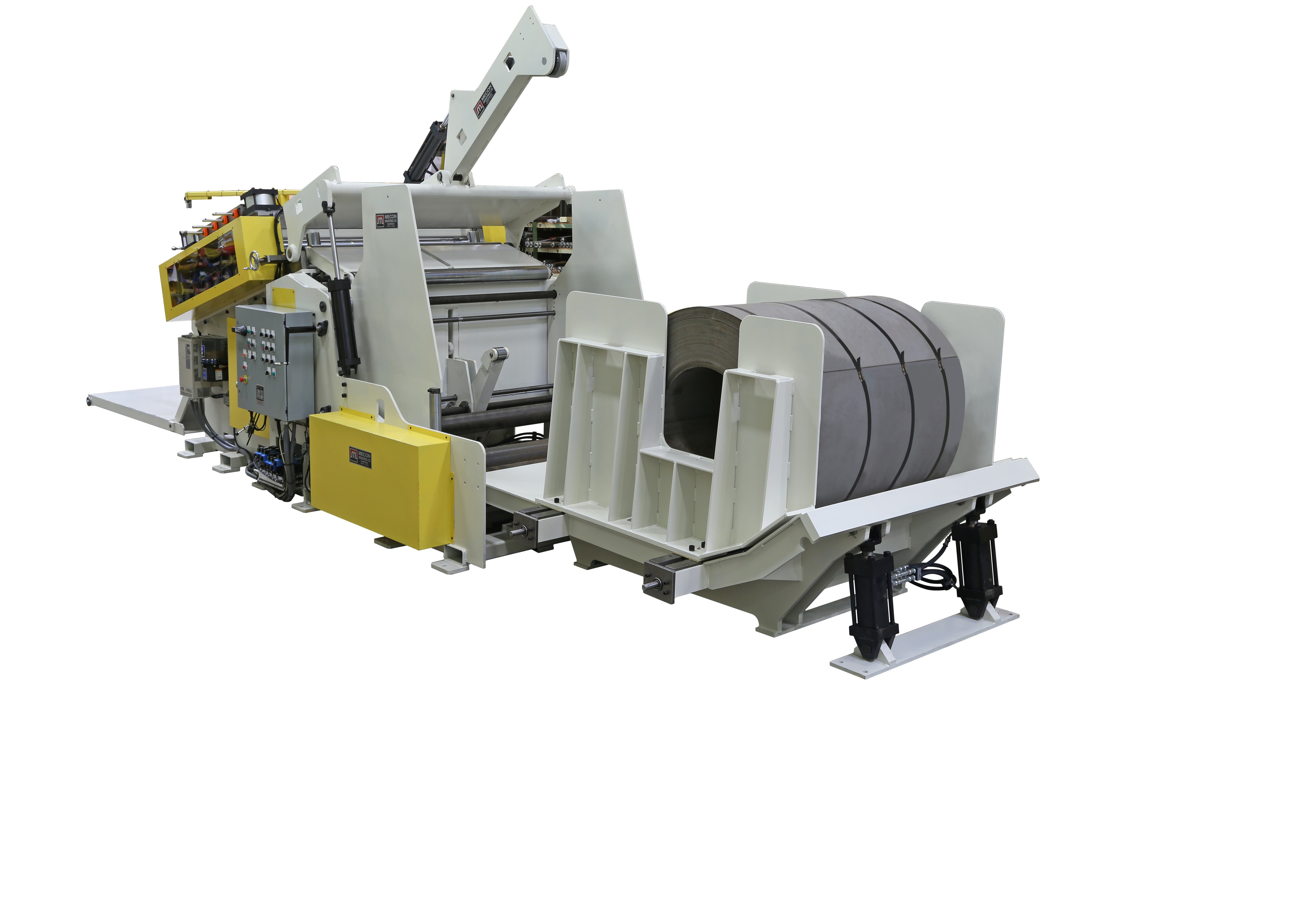 Advantages:
Suited to process thick material.
Easy and safe loading of coil.
Accepts any range of coil I.D., and wider ranges of O.D.
Confinement of coil helps in control of heavy materials.
Straightener is easily built-in and synchronized with process speed.
Suited to addition of threading systems for routing of heavy materials into feeds.
Self contained, easy to relocate and setup.
Cons:
Rewind of unused material may be difficult
<.080" material,  prefinished, or mark sensitive materials, may be marked
.
NEW Rules New Tools: Powered Straighteners
The new HSLA materials being used in the industry are posing new challenges for coil handling. Straighteners must be sized on the basis of the type of material to be processed, the thickness range, the stock width, and Yield Strength. Straighteners are generally positioned close to a non-motorized reel to pull material directly off the coil. The primary function of straighteners is to remove coil set and cross bow, and to pay out material to the accumulation loop as required for the feeder. For most materials and flatness requirements, use straighteners with five to seven rolls. For some materials, and to meet high flatness requirements, more rolls may be necessary.
Mecon straighteners are:
Easy to thread, with variable speed drives.
Able to match process demand automatically.
Heavy duty construction.
Easy to set, with soft starts and stops.
All lubrication points marked and easily accessible.
Capacities in mild steel from 0.010" to 0.450", 12"-72" wide (heavier on request)
Standard payout speed of 0-80 fpm.
Digital indicators show straightener roll position.
Entry side guide rolls.
Entry and exit support rollers.

Optimized for HSLA materials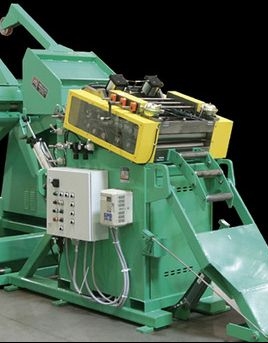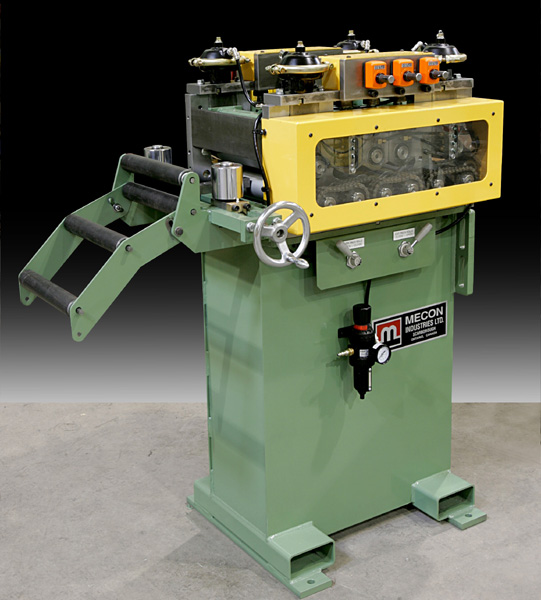 Straightener Capacity
Note: Several factors affect straightener processing capabilities therefore machine capacity calculations are to be used as guidelines only. Consult Mecon engineering with specific application requirements.
.
Roll Feeds
Mecon feeders use precision Servo motors and controls, precision drive systems and heavy duty components to provide quick accurate indexing of material. They are designed to pull from an accumulation loop (not directly off the coil), and accurately position the material each cycle.
Fast, Flexible Operation. RThe controls are located on a console or pedestal for convenient entry of job settings. Setup time is reduced to seconds, just enter the values using the keypad. Roll positioning accuracy of +/_ 0.002" can be achieved with the sevro driven roll feeds. The drives provide precision control of position, speed, acceleration and deceleration.
Features:
Diagnostic display of operating status and faults
Feed before press or press before feed modes.
Upper feed roll is driven is driven using a constant mesh 4 gear train, gears are hardened 4140 steel
Hardened vertical side guide rolls align the strip to the tooling
Entry ramp rolls support material to ensure smooth flow from loop to feeder
Accurate Part-to-Part Advancement
Roll position accuracy of .001 (inch) can be achieved with Mecon electronic roll feeds. Servo drives provide gradual, and controlled, acceleration and deceleration. Stock payout is smooth and rolls do not slip.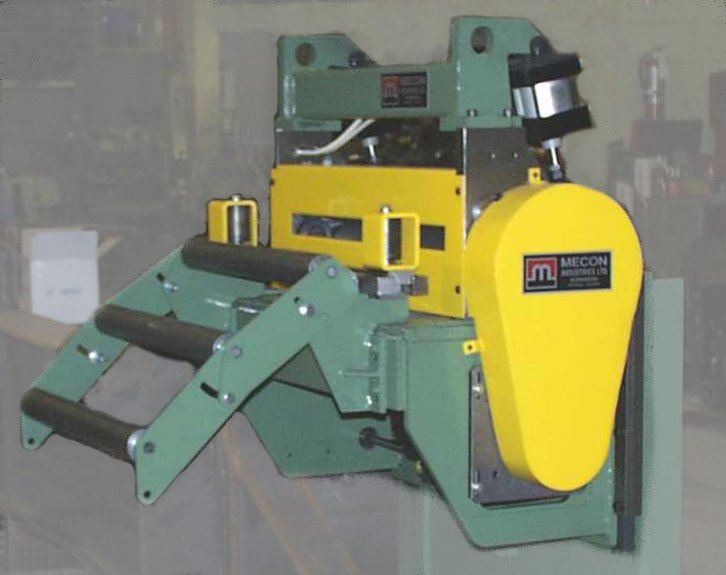 High Capacity, High Performance Machine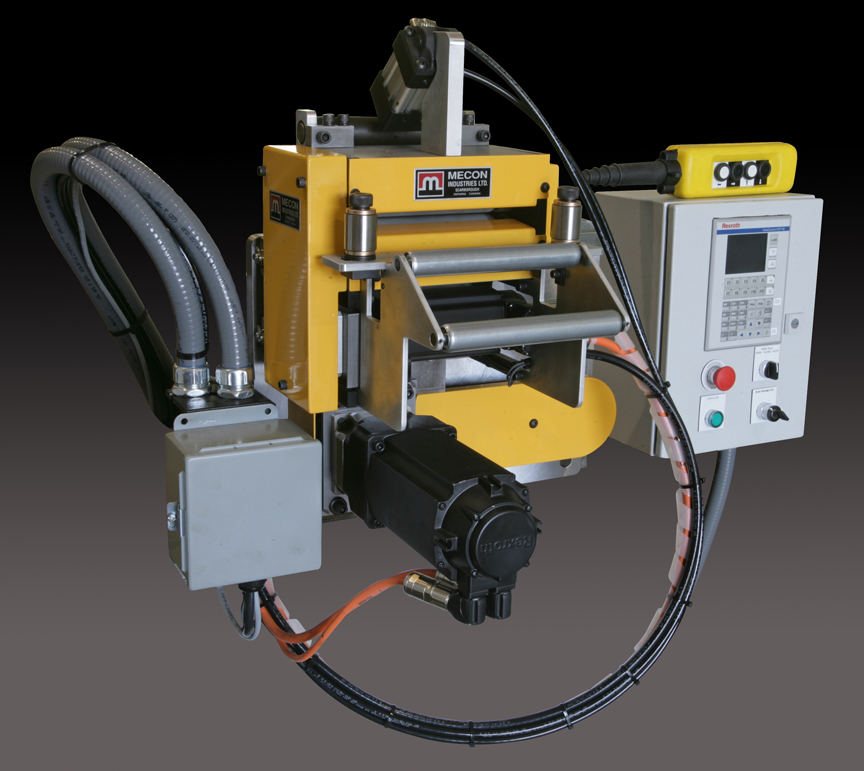 Feeder with Anti-Backup Option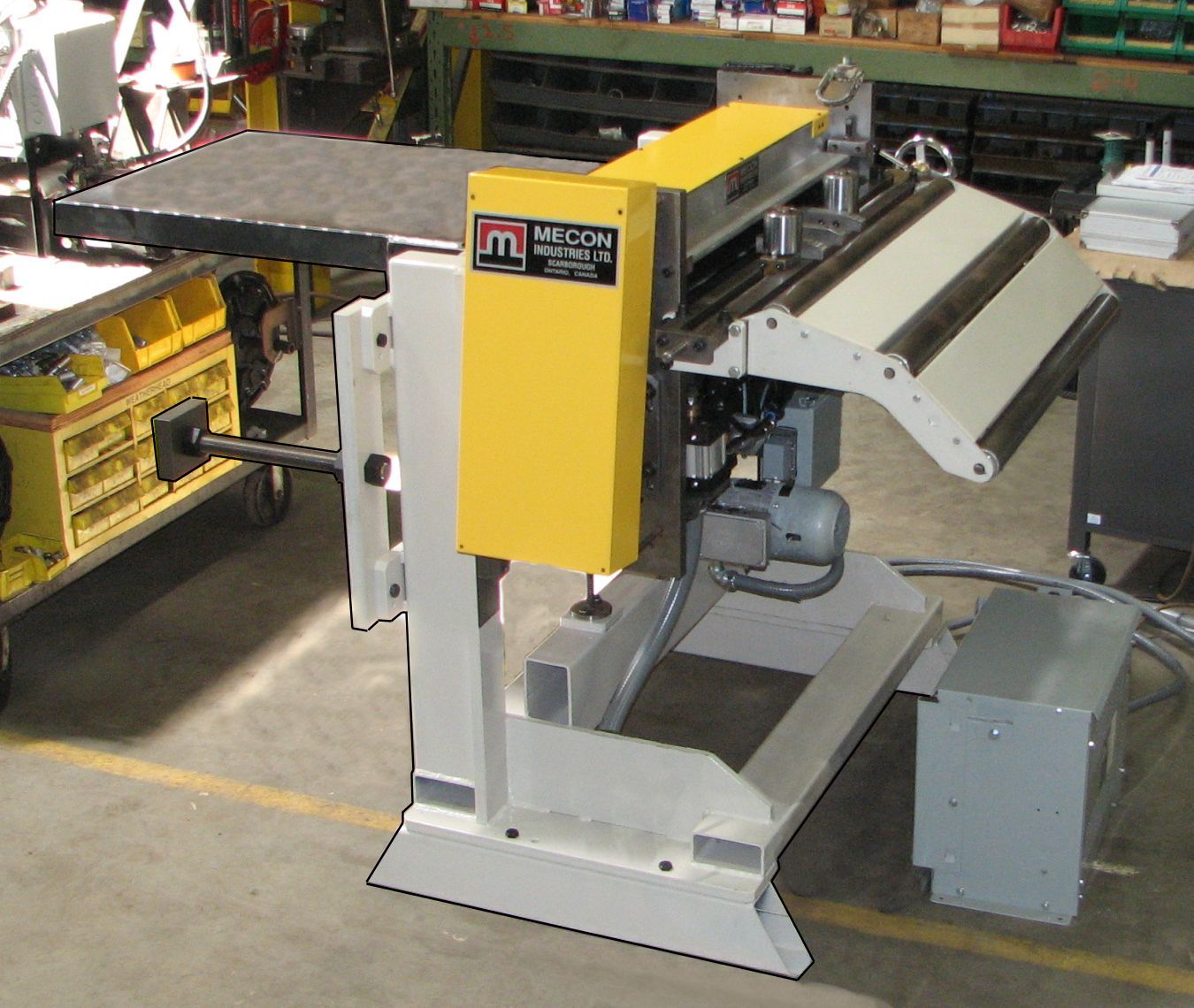 Feeder on Floor Base with Exit Table
Side Shifting Feeders
Mecon offers roll feeds with a servo driven shift base to allow optimum use of material.
The standard control has 3 pre-prograrnmed patterns. Shift and Feed distance are simply keyed in at the operator's console. Select the pattern, press start and the machine is ready to run. Custom programs available.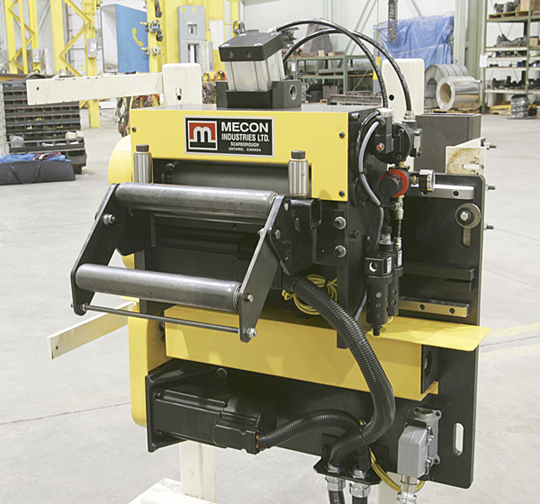 Side Shift Feeder on Floor Base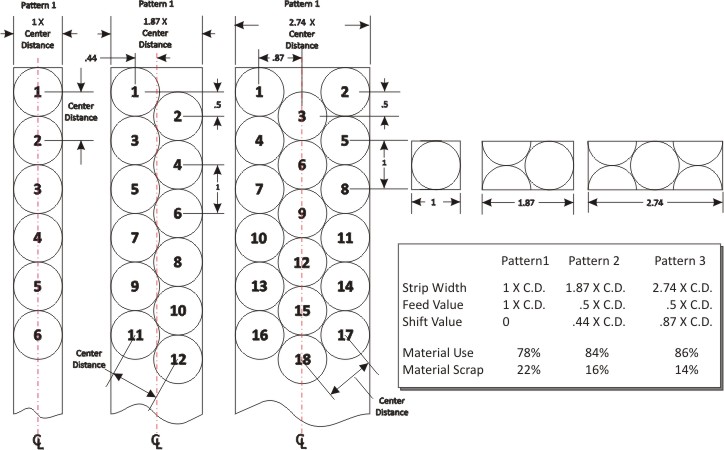 Shift patterns
.
Feeder Straightener Combinations
These double operation units have become more accurate and faster as high performance motors have become available. Accuracy is now comparable to stand alone feeders. They are designed to straighten and feed material from a powered uncoiler.
The material is being processed closer to the press with the coil being fed directly into tooling. The positioning of the material is accurate and coil set is eliminated.
Feeding of a new coil stock through the straightener is accomplished without opening the straightener head or disturbing the depth settings. Straightener-feeder combinations save space.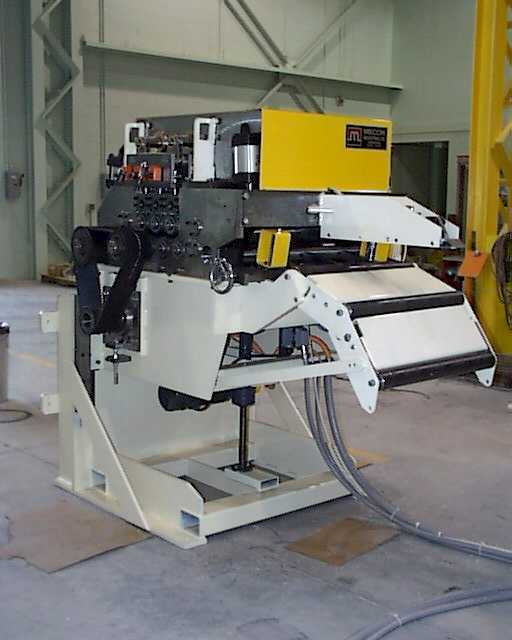 Feeder With Pull-Through Straightener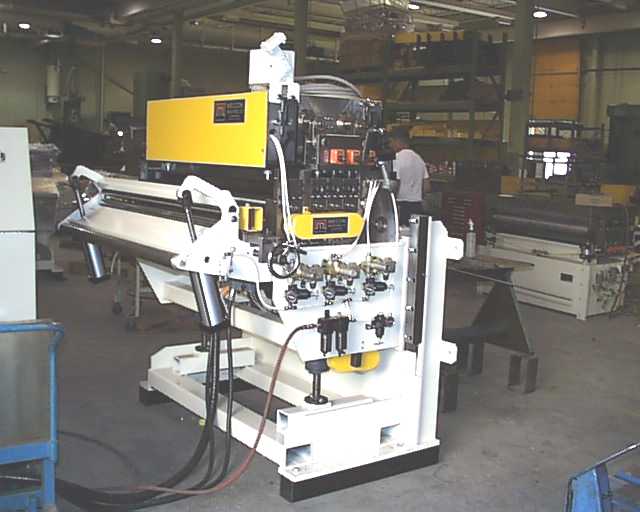 Feeder With Driven Straightener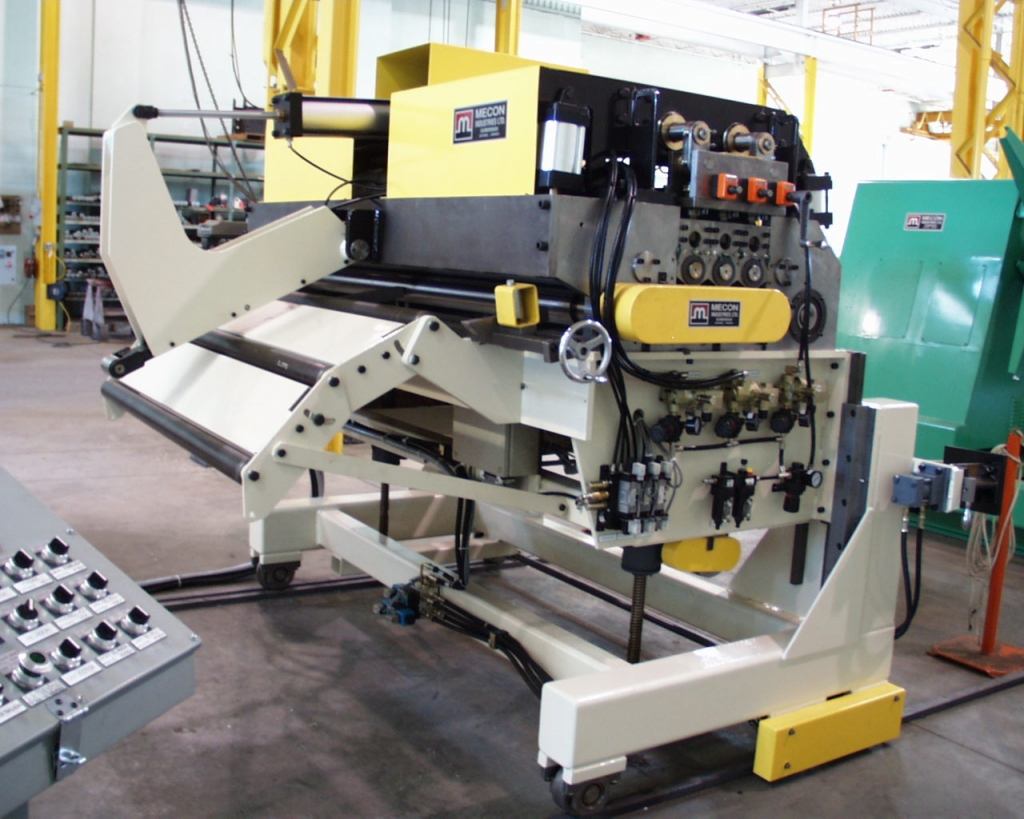 Feeder With Driven Straightener Pilot release of feed and straightening rolls. Threading option.
.
Customized Purpose Built Uncoiler Systems

Coil Car, Dual Spindle to Reduce Down-Time, Cut to length line with Rotating Shear
Mecon Industries is equipped to help solve your challenging production problems. Our objective is to design and build equipment which maximizes productivity, operator safety, and return on investment.
Reduced downtime for coil changeovers may make the difference between profit and loss. Fast loading, easy "hands-off" operation makes for a streamlined, safe and profitable operation. …see more

Powered Straightener with Drag Reel, Laser Loop control, Servo feeder floor mount.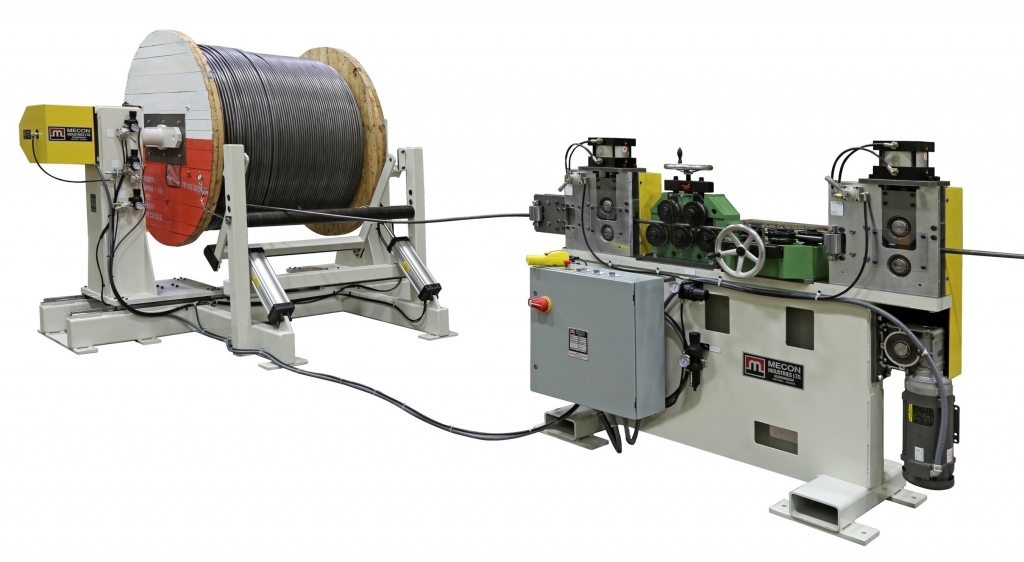 Pipe Uncoiler with Straightener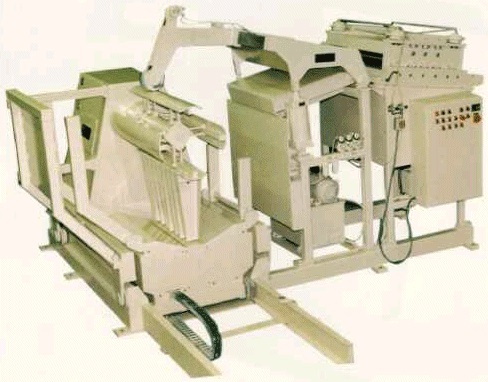 Coil Car, Uncoiler, Threading Equipment, Powered Straightener
The Space Saver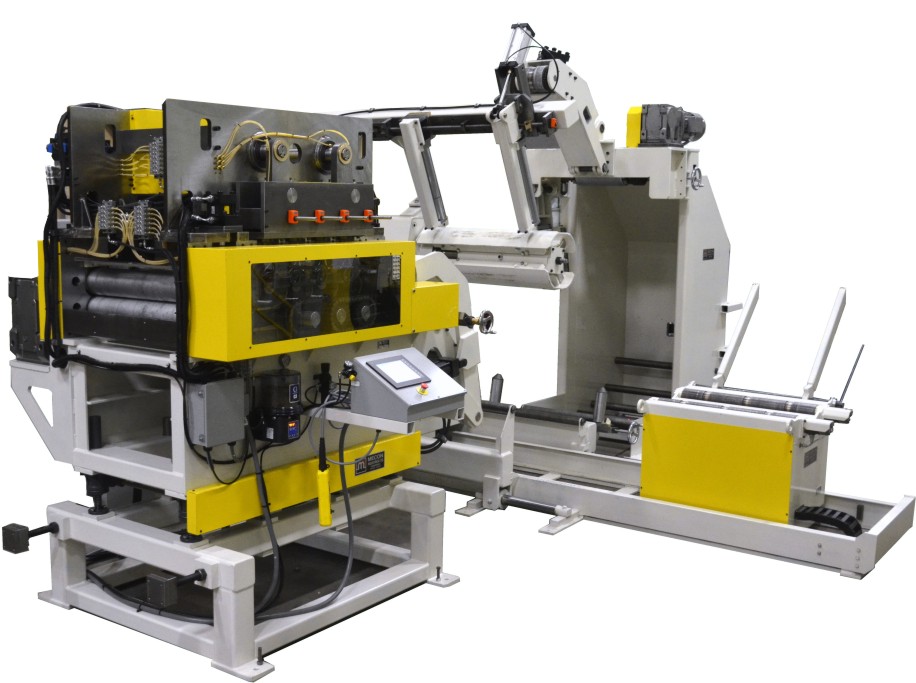 Space Saver Combination with Coil Car, Uncoiler, Roller Coil keepers, Power Pull off Rolls, HSLA Threading, Servo Pilot release Feeder-Straightener
The choice when plant space is limited. Requires far less overall floor area than conventional systems. This computerized processing line combines a coil car, uncoiler (with strip alignment and threading), and feeder-straightener, resulting in a compact, fully-integrated system.
Main features:
Single operator.
Easy to load.
Hands-free threading for safety.
High capacity / high performance.
Compact – saves floor space.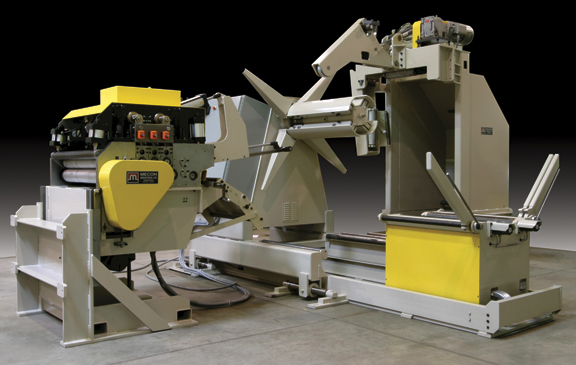 Anatomy of a Coil System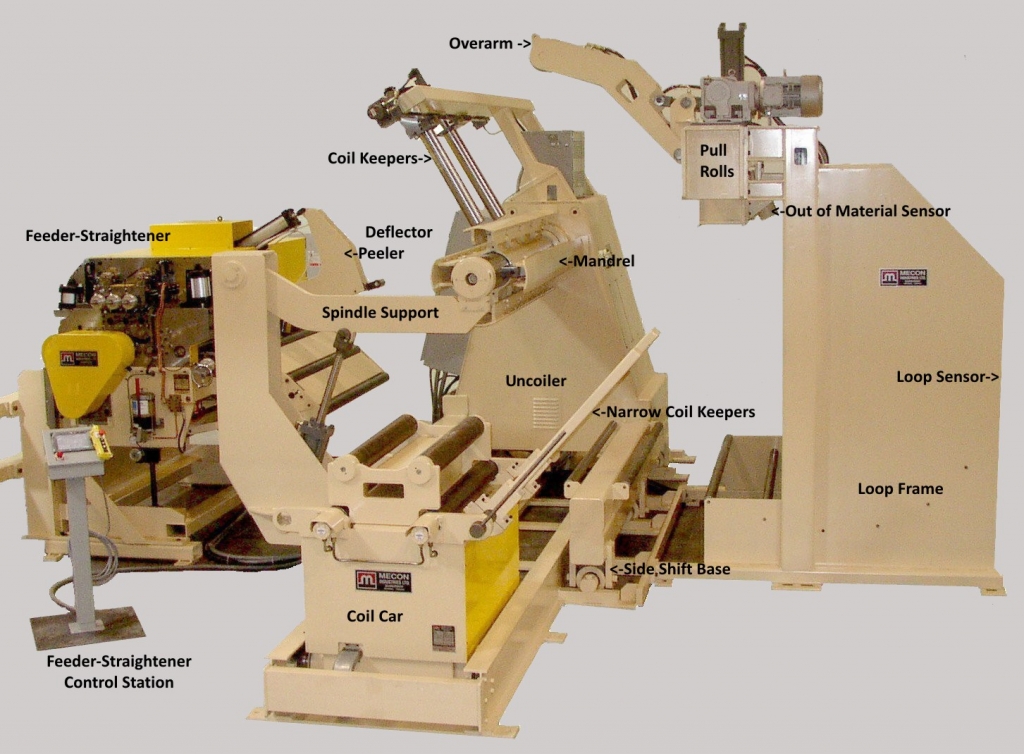 Consider these options to maximize production with safety:
Stacking Pallets
Part Conveyors
Multi-Function Pendant
Feeder Exit Table
Side Shift Base
Laser Loop Control
Roller Coil Keepers
Coil Car
Upenders
Threading Table
Hold Down Arm
Material Guidance
Shear
Coil Car with Narrow Coil Keeper Arms
Typical power lift of 20″, 110" travel 1,000 to 60,000 lbs.
Dual scissor stabilizer to support top of car when loaded off center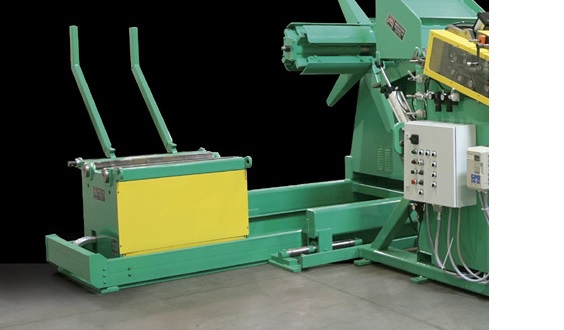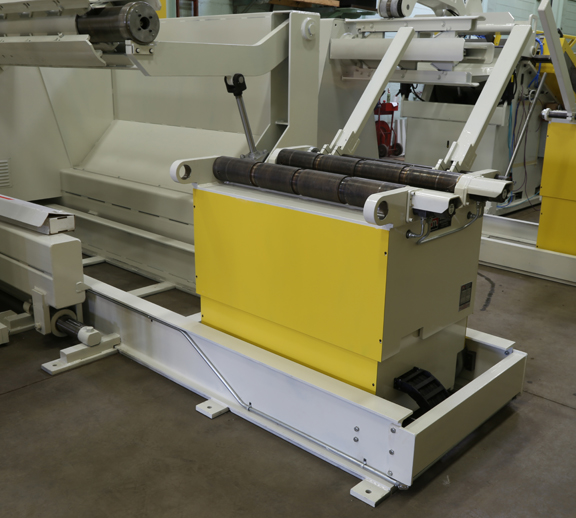 Material Guidance systems
Screw adjust side side guides help hold the material square and centered as it enters the straightener.
Screw adjust side guides are selfcentering, roll position is set by hand wheel.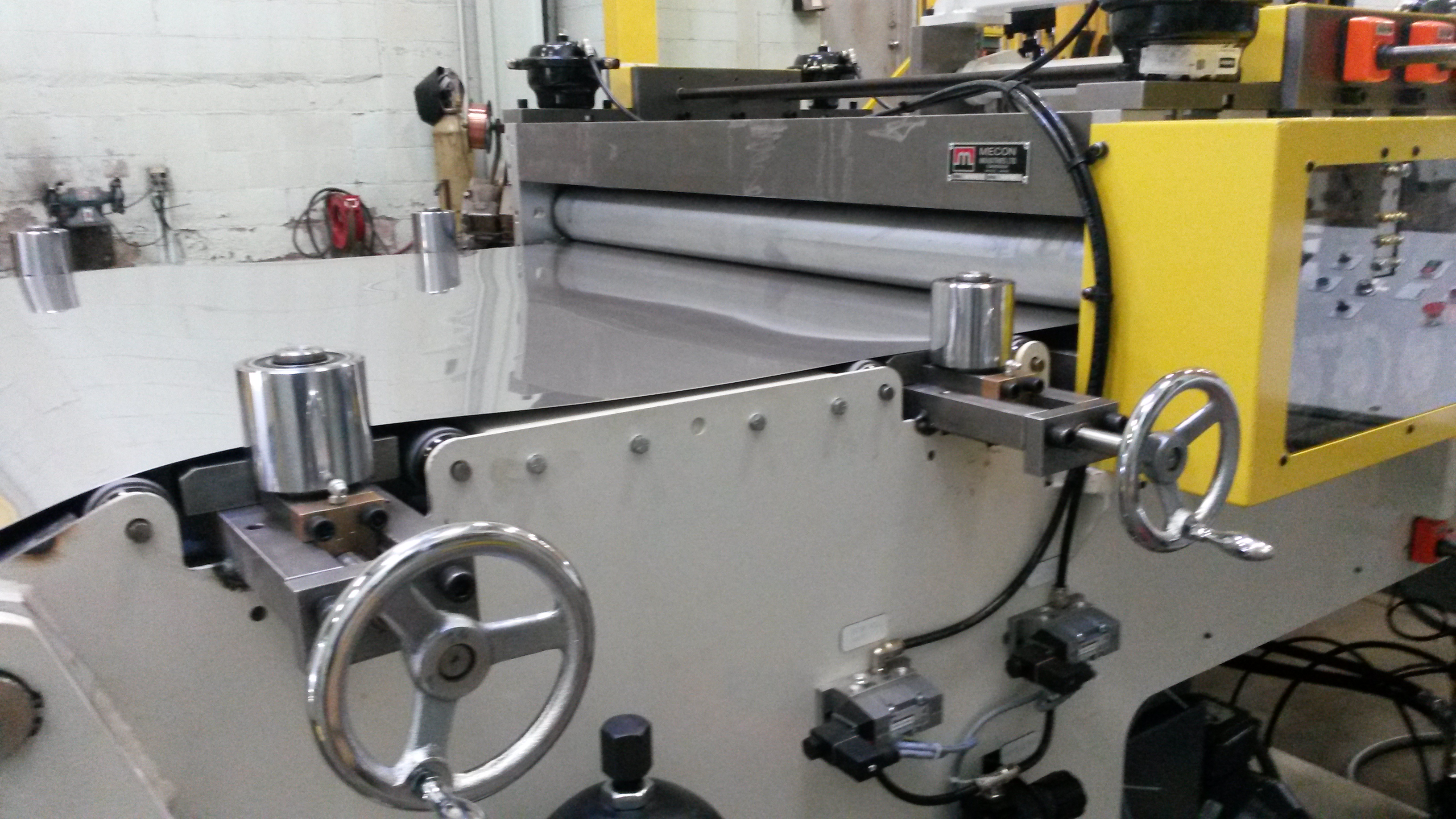 Multifunction pendant
Multifunction pendant (replaces standard 2 button jog pendant)
Mode select: Setup- Manual- Automatic, Reset, Feeder Auto start, Feeder Auto stop, Jog Reverse, Jog Forward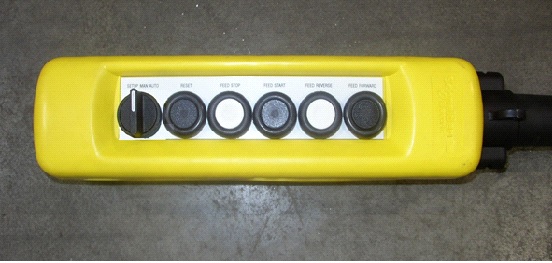 Coil System Threading Table
Eliminate the need for the operator to carry the start of the material from the coil to the straightener
Safe material handling operation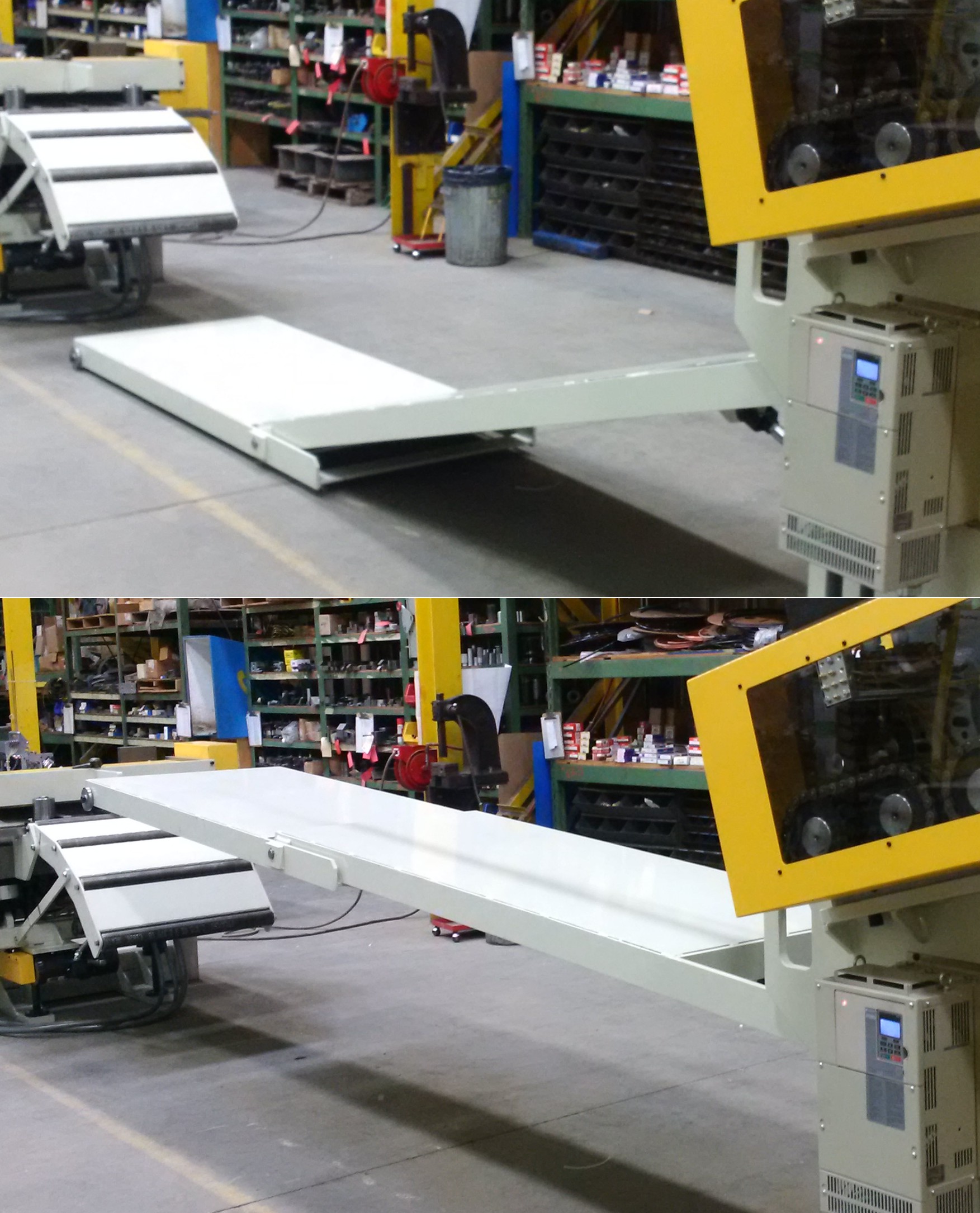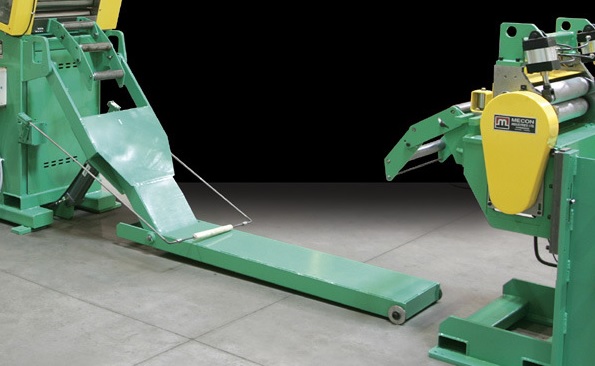 Mecon Laser Loop Control System:
Controls the uncoiling process to supply material into an accumulation loop at a rate sufficient to meet or exceed the demands of the machine pulling material from the loop.
Provides a simple method of setting the operating limits, the operating parameters, and the mode of the loop control.
Allows the uncoiling process to run without abrupt changes in speed.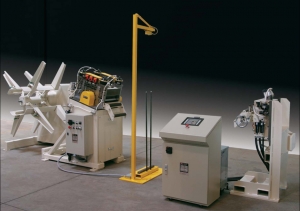 Coil Upender
Easy and safe way to upend not only metal coils, but also molds, dies and other heavy and bulky loads.
Available 1,000-60,000lbs standard, custom to you requirement.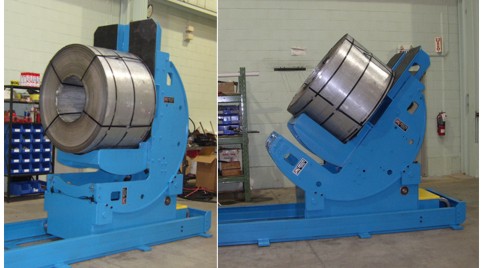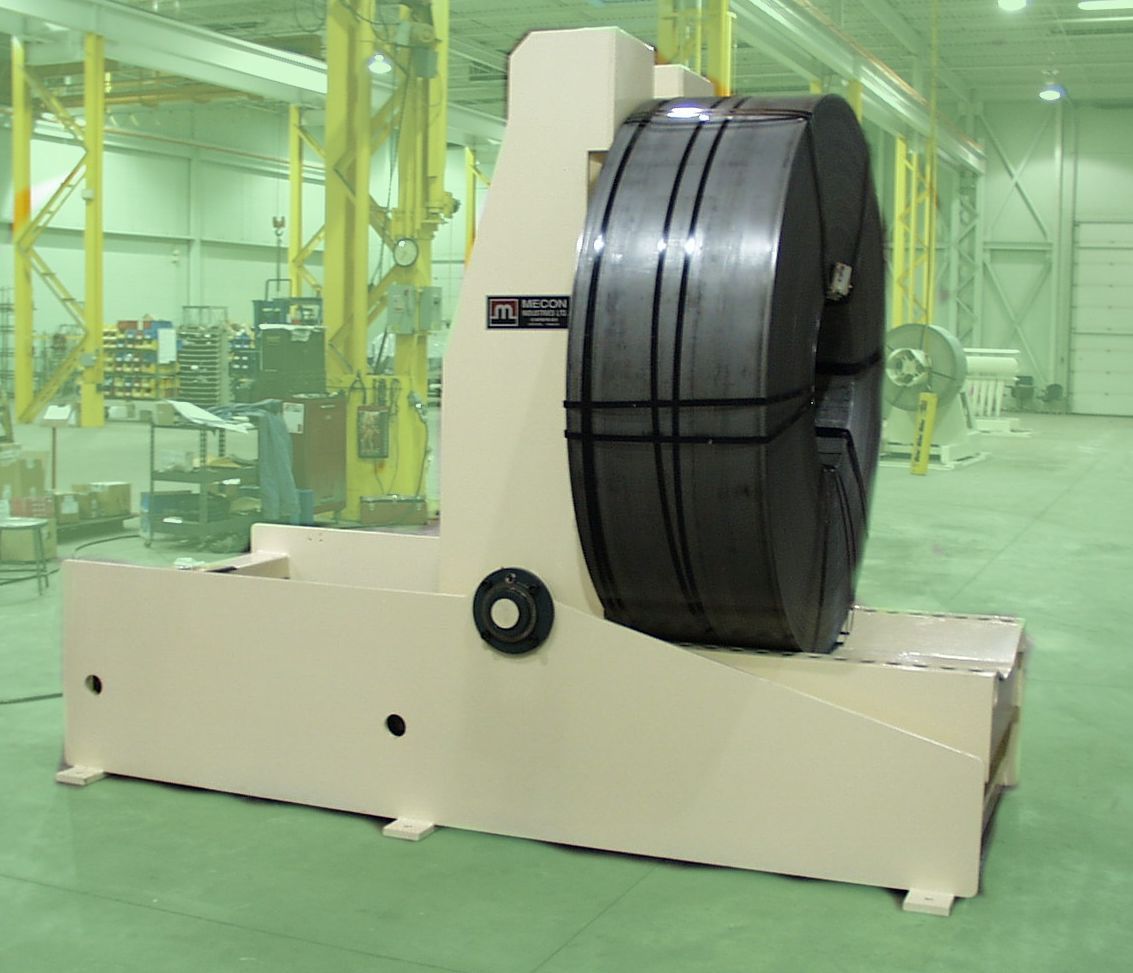 Shear
Modular construction to allow easy integration
CRU-WEAR High chrome, high carbon tool steel shear blades with 4 cutting edges 1/2 x 3″.
CYCLE TIME less than 1.5 sec.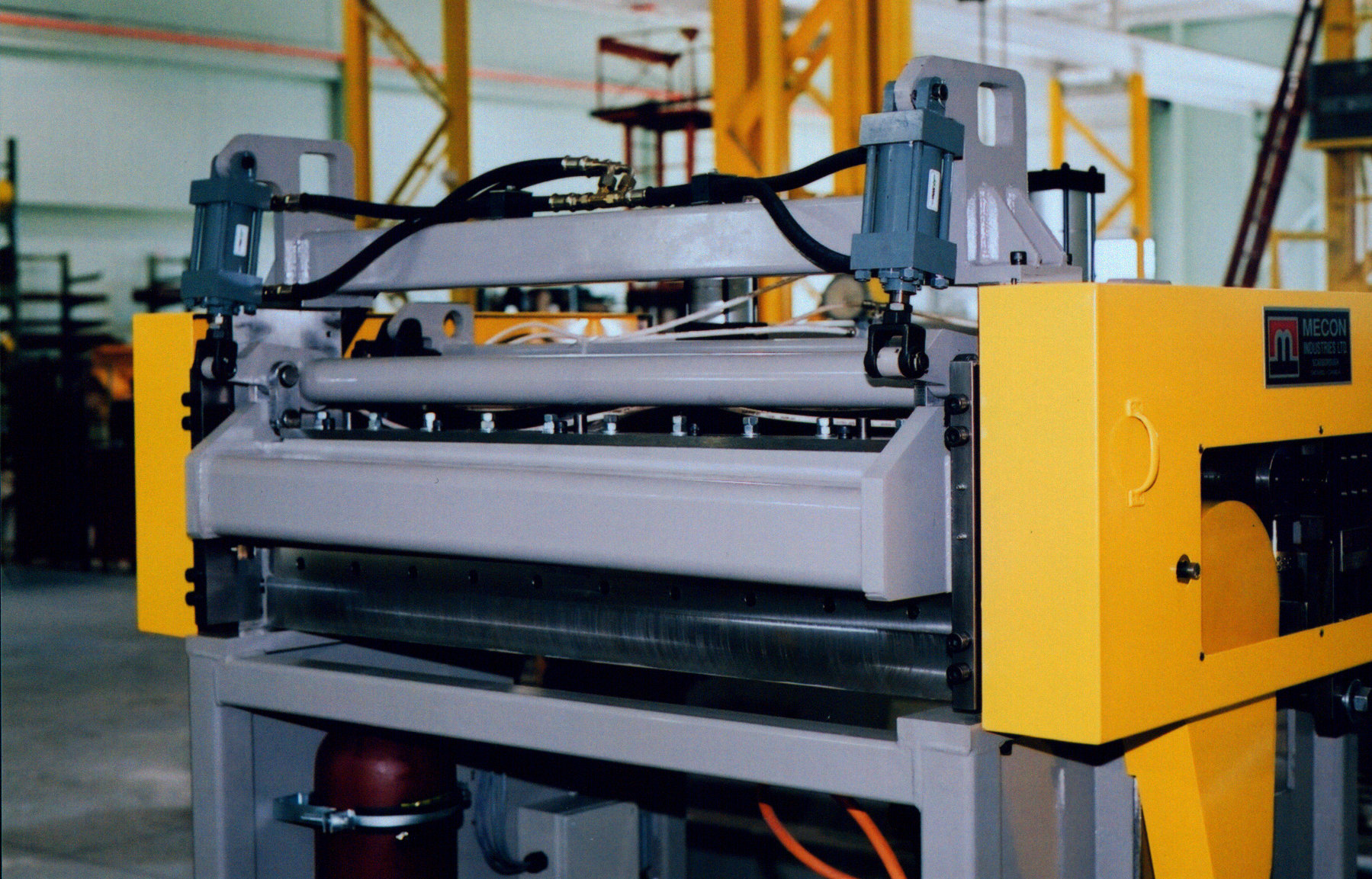 Perimeter Safety Fencing
2.5″ sq. posts lagged to the floor.
Spaces between are posts fitted with panels 1.5 x 1.5 angle frame and 10 ga. x 1 x 1 welded wire.
Fixed panels are bolted in place.  Any fixed panel may be removed by unbolting.
Sliding or hinged doors may be placed anywhere in the perimeter/
Telescoping doors and light curtains available
Fully programmable multiple Safety Zones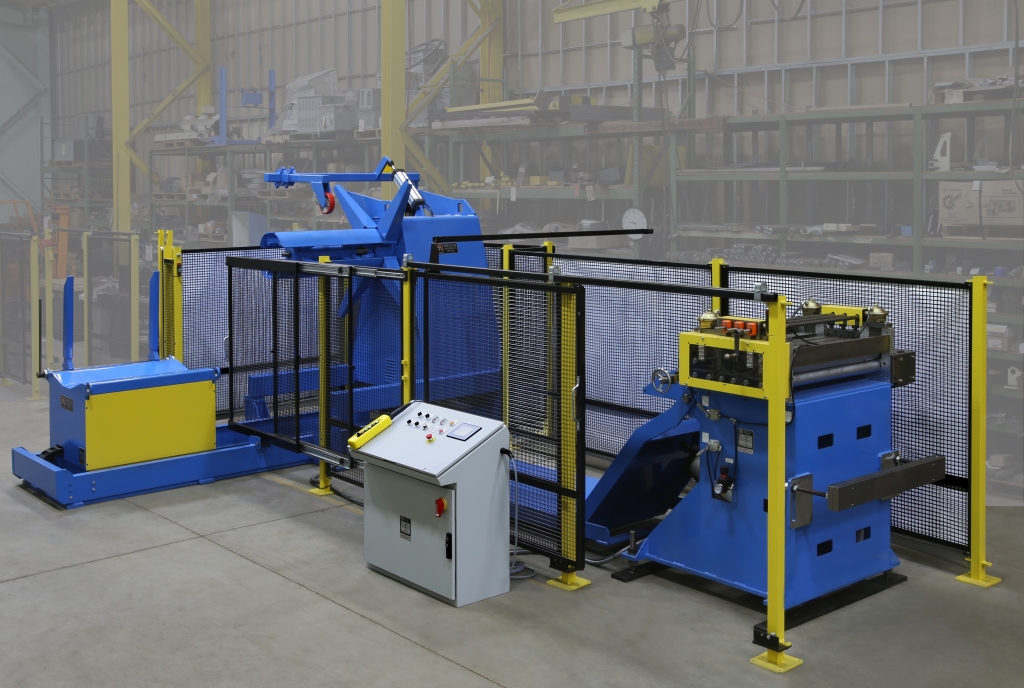 Stacking Pallets
Adjustable posts to align blanks for stacking.
Sub frame with cross tubes for lift truck forks and corner posts for stacking.
Guide posts mounted on Tee Slotted bars for positioning
Guide posts mounted on sliding and pivoting bases.
Custom designed for your requirement.
Feeder Exit Table
This version has a solid top, spring suspension, and is extendable
Options: mount for strip lubricator, roller top, nylon top, …
Design to suit site requirements.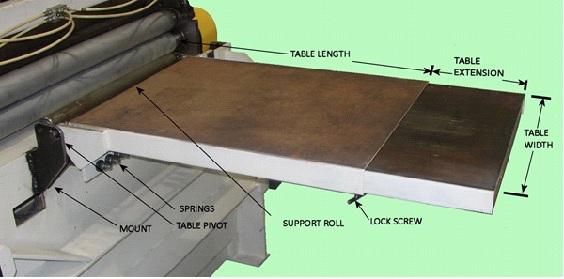 Upgrade your machines to bring them to the latest standards in the industry.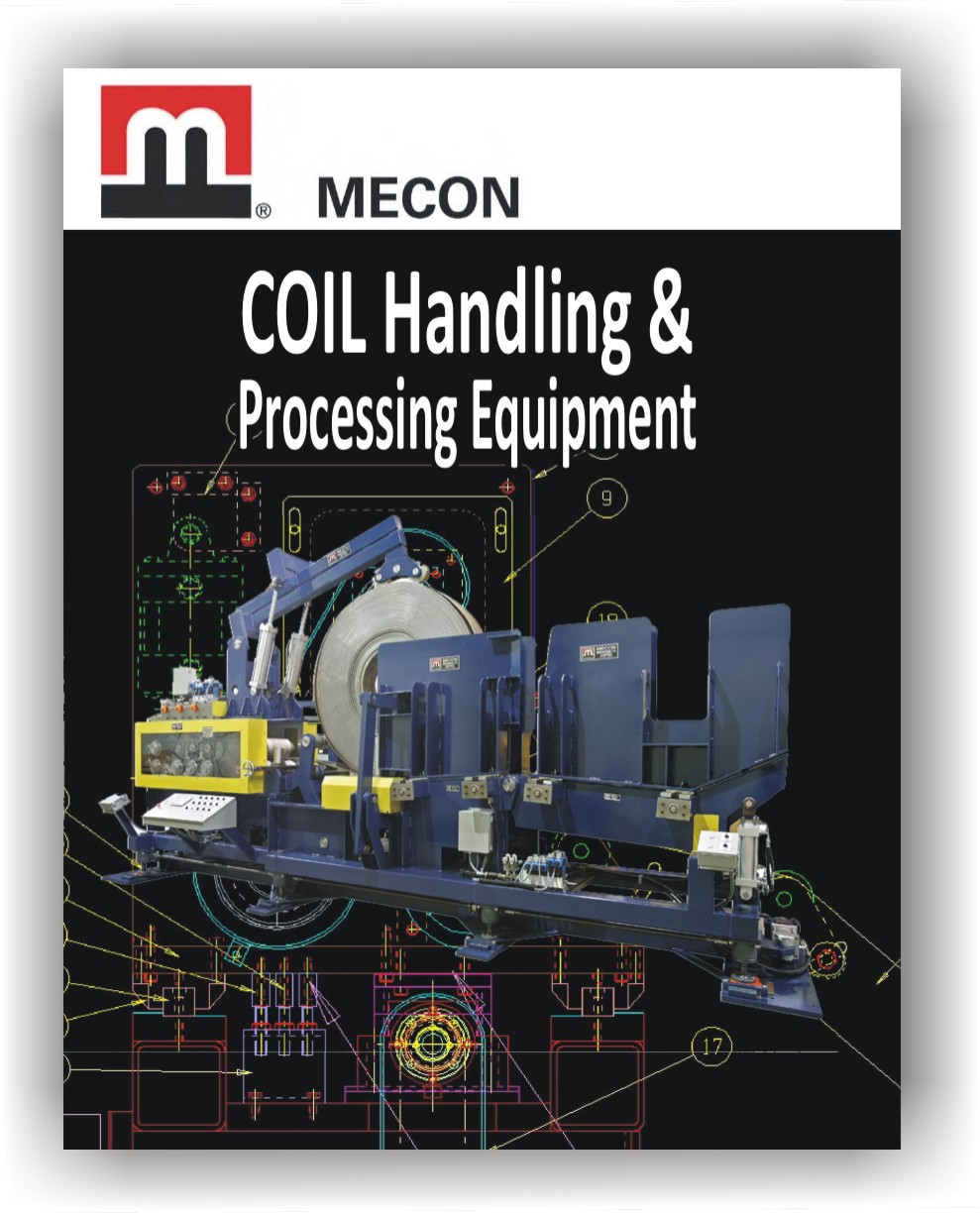 Uncoiler decoiler  Uncoiler decoiler Uncoiler Uncoiler Uncoiler Uncoiler Uncoiler Uncoiler Uncoiler Uncoiler Uncoiler UncoilerUncoiler Uncoiler Uncoiler Uncoiler Uncoiler Uncoiler Uncoiler Uncoiler Uncoiler Uncoiler Uncoiler UncoilerUncoiler Uncoiler Uncoiler Uncoiler Uncoiler Uncoiler Uncoiler Uncoiler Uncoiler Uncoiler Uncoiler UncoilerUncoiler Uncoiler Uncoiler Uncoiler Uncoiler Uncoiler Uncoiler Uncoiler Uncoiler Uncoiler Uncoiler UncoilerUncoiler Uncoiler Uncoiler Uncoiler Uncoiler Uncoiler Uncoiler Uncoiler Uncoiler Uncoiler Uncoiler Uncoiler decoiler decoiler Uncoiler decoiler decoiler Uncoiler decoiler decoiler Uncoiler decoiler decoiler