Typical system requirements and proposed solutions:
#3120 50Klb x 72 Conventional
#16675 C-Channel Punching System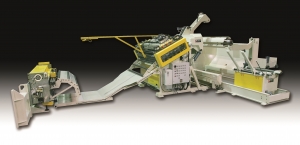 Requirement:

   50,000 lbs. x 72" wide Steel coiled material to be stored, uncoiled, straightened, and fed into a press.

Maximum coil weight: 50,000 lbs.
Min/Max coil I.D.: 19 ½" -24 ½"
Max coil O.D.: 72"
Press: PTC
Passline ht: to be determined
Feed angle: 180 degrees
Material:  .020″ to .236″ (6mm) mild steel and hsla,
Material: .08 x 60″ 50ksi ys steel
Material: .120" x 72" (3 mm) x 50 ksi,
Material: .177" x 56" x 50 ksi ys HSLA
Performance: 15" x 48 spm, 24" x 30 spm
Power supply: 480 volt, 3PH, 60Hz
Air supply: 80 psi
Proposed Solution:

 Coil car, Uncoiler, Power Straightener, accumulation loop, Feeder.

a) Coil car model 500cc with power top rolls:
A coil car with power lift of 20″ and power travel.
The car will travel on tracks to transfer the coil from the park position to the uncoiler, or from the uncoiler back for storage. The coil rests on non-powered rollers.
The rolls are used to aid in threading thicker materials into the straightener. Traverse, and lift functions are controlled manually from a central control station.
b) Uncoiler model 500btj72. ( capacity 50,000 lbs x 72" with spindle end support)
The uncoiler has an air brake to maintain coil tension during processing.
A hydraulic motor, and clutch for jogging coil. Jog speed 4 rpm.
Upgrade to heavy duty back tension brake with coil diameter sensor to maintain constant tension during unwind of coil.
The mandrel is 4 segments, with wedge style expansion and is hydraulically expanded/retracted.
Inside diameter range of 19.5 to 24″.
c) Coil over arm with power wheel: Peeler / coil breaker.
The over arm clamps onto the coil to contain the coil end when the straps are cut.
The wheel is powered by a hydraulic motor and drives the coil to thread the start of the coil to the input pinch rolls of the straightener.
The Peeler extends to contact the coil and guide the start of the coil.
The coil breaker lifts to press the strip against a flattenning block on over arm and thus de-kink the start of the strip. This allows easy threading of steel into straightener.
d) Straightener model 5str72-bu: Series straighteners have:
11 hardened and ground rolls running on precision needle bearings, bearings lubricated from centralized manifolds (hand lubricated)
Entrance and exit pinch rolls; air actuated, lower rolls driven.
2 entrance pinch rolls, 5.000″ diameter, close onto material to drive starting edge thru straightener, not required to change straightener settings for threading.
2 exit pinch rolls, 5.000″ diameter, open for threading, close for running.
7 straightenning rolls, 5.000″ diameter, 4 lower rolls all driven, 3 upper rolls idle.
Upper rolls motorized individual adjustment, position shown on .001″ graduation counters.
Straightener drive: Variable Frequency AC Motor control with AC induction motor, and brake.
speed 0-80 fpm. infinitely variable.  These drive systems give very smooth acceleration and deceleration with no sudden shocks to the material or drive components, and thus extend machine life and limit material marking.
In automatic mode a sonar unit senses the height of the material in the loop between the straightener and the feeder.
The sensor signals the drive to speed up or slow down to maintain the loop automatically.
The uncoiler brake is provides back tension to limit coil overrun and to help prevent coil slack.
n manual mode the speed is set at a low speed and forward or reverse movements are selected by pendant mounted switches.
HD Support rolls: The drive system will be increased to 40 hp to match the higher capacity of the straightener. Each straightener roll is supported by rolls to limit roll deflection when processing heavy materials. Lower support roll positions are fixed and not adjustable. Upper support rolls travel with the straightener roll during adjustment.
Material guidance: Coil peeler and breaker guide material into straightener.
Entrance vertical guide rolls to track the material.
Exit ramp rolls support strip as it exits straightener and drops into loop.

System Summary:
a) COIL CAR: MODEL #500CC .
20″ lift .
Keeper arms .
power rolls .
b) UNCOILER: MODEL 500BTJ .
72″ mandrel .
side shift uncoiler .
xHd btj base .
coil diameter brake control .
c) THREADING: MODEL HD72 .
motorized overarm wide roll std
coil breaker table std
peeler arm std
d) STRAIGHTENER: MODEL 5STR72 .
40 HP VFAC drive .
power adjust strnr .
Stnr support rolls .
main transformer .
Sonar loop control .
e) END PIVOT THREADING TABLE:
f) SYSTEM INTEGRATION:
g) FEEDER: MODEL 600F72-IHD
floor base power elevation .
3 ph. isol. transformer
h) Estop and Gate monitor circuits .
e)
End pivot threading table. EP72x168:  
End pivot threading table attaches to the straightener.
Hydraulic cylinders actuate the table. The table lifts to support material between the straightener and the feeder as the beginning of the strip is being jogged to the feeder.
Table length is dependent on the loop geometry, which is related to the maximum material thickness, material strength and feed length.
f) Straightener control station and integration: 
Contains the controls for the coilcar, uncoiler, overarm/peeler/breaker station, the straightener, and the threading table.
g) Feeder model 600f72-IHD: The feeder is a floor mounted machine with a press adapter bracket, a seperate control console and a remote jog pendant. The press adapter bracket rigidly attaches the feeder to the press. The jog pendant allows the operator to walk with the material when threading.
Feed Rolls: The rolls are 73.5″ face width x 6.000″ diameter. They are hardenned, precision ground and 100rms chrome surfaced for excellent grip and wear resistance.
Upper and lower rolls are both driven.
Passline Adjustment; Passline height is adjusted by a powered elevator, total adjustment 12″.
Pilot release: The feed rolls are pnuematically lifted and lowered. The pilot release circuit is signalled by a press cam to lift the rolls and lower the rolls to release the material.
Anti-Backup brake mounted on the motor is standard. The brake is spring engaged and is on anytime the power is off the servo motor. When the pinch rolls are contacting the strip, the brake will not allow the material to slip back into the loop.
Servo-Drive: An Indramat high performance brushless AC servosystem drives the feed rolls. It is conservatively rated and is capable of peak torques well in excess of the rated torque.
The servo motor is mounted to a servo quality "zero" backlash gearbox, and mounted under the feed rolls. A high performance Gates Polychian drive connects the gearbox output shaft to the lower feed roll. Components Mkd Motor, Alpha Sp gearbox.
Computer Control: An Indramat motion control – Mecon OCS control runs the servodrive. It is very flexible. Program parameters, speed and feed length, etc. are input directly through keypad. Displays operating mode, error and system diagnostics, etc.
Very fast setup of next job.
Die and press protection through monitoring of press feed signal and feed completion.
High Performance: The performance is tuned to suit the specific requirements. Feed length accuracy better than +/- .003″
Typical 600f72 set up
a=240 in/s/s,, feed angle = 180 degrees, maximum uncoiler speed = 80 fpm
20 spm —- 45″ progression
30 spm —- 28″ progression
40 spm —- 20″ progression
h) Safety circuits. The control is wired with dual path Emergency Stop and Gate Monitor circuits. The control relays are Safety rated contactors with external reset.
On Emergency stop, all high voltage power is disconnected from drives and hydraulic power unit, and 120vac and 24vdc power is disconnected from all solenoid valves, control power remains connected.
On Gate monitor circuit open, the system will allow manual functions, but will prevent automatic functions.